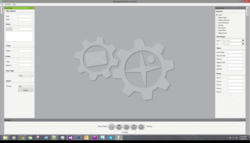 Enterprise security intelligence energized by real-time security data visualization
Merrillville, Indiana (PRWEB) January 30, 2013
IdentityLogix an innovative continuous security intelligence and real-time data actualization software company, announces an enhancement to its SpyLogix™ Platform software - an all new graphical user interface. The Interactive Dashboard graphical monitoring interface offers improved data query, analysis via grid and charts, and report capabilities that enable enterprises with insightful security intelligence.
The new Interactive Dashboard V4 user interface offers improved data query, analysis via grid or charts, and report capabilities that enable enterprises with insightful security intelligence. Queries, analysis grid and charts run using streaming data feeds for continuous intelligence. Data grid rows offer "drill-down" for more details at your fingertips and can pivot rows and columns. Data may be represented graphically using popular chart types. Grid data, charts and text may be combined for rich document reporting.
"The Interactive Dashboard offers state-of-the-art real-time enterprise security data visualization," said Michael A. Hlebasko, president and co-founder at IdentityLogix. "This user dashboard includes a new look-and-feel, support for analysis of streaming data and chart capabilities, all of which improve business or IT management communication, operational collaboration with colleagues or continuous compliance management initiatives."
These new enhancements facilitate immediate security data exploration for effective troubleshooting. Enterprise security data visualization is enhanced by continuous data feeds into the analysis grid, real-time graphs with incorporated metrics, which reveals intrinsic relationships and easily comprehension of multidimensional data.
The SpyLogix Interactive Dashboard V4 is included with SpyLogix Platform and will be generally available for IdentityLogix customers March 1, 2013.
What's new?

New user interface
Enhanced and easy to use query panels
New Analysis capabilities using streaming data via grid and chart views
New Docking System
New Report Designer
Many more features
Business and IT staff tasked with keeping business information safe benefit especially by using the new SpyLogix Interactive Dashboard and ActionLogix™ for proactive automated security data analysis, periodic strategic planning reports or real-time management by exception, timely troubleshooting, insightful operational monitoring, risk mitigation with 360° visibility and enhanced compliance support.
About IdentityLogix
IdentityLogix is an innovative software company offering products that improve the efficiency and effectiveness of people, processes and technologies entrusted with business information security. Its flagship line of SpyLogix™ Enterprise products represent a significant new paradigm shift for simplifying and enhancing enterprise information security by employing continuous native digital asset monitoring, standardized message design for advanced data communications, automatic centralized data management and real-time data actualization middleware services. Business and government entities now have a single enterprise security intelligence system that provides for proactive operational enterprise security monitoring, automated or manual real-time data analysis, trending visibility using historical data and a powerful troubleshooting tool for quick and accurate issue resolution. Expected outcomes include lower costs for people, processes and technologies working continuously to keep business information safe, improved "time-to-value" for ongoing security audit activities support, simplified support for IT processes such as information security management, risk control or compliance initiatives.
For more information please visit http://www.identitylogix.com.
IdentityLogix and SpyLogix are either registered trademarks or trademarks of IdentityLogix in the United States and/or other countries. All other trademarks or trade names are property of their respective holder.
# # #