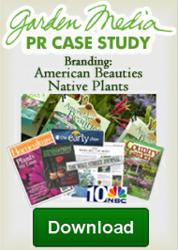 It's clear when looking at the case study that public relations tactics are the best way to increase your brand's reputation
Philadelphia, PA (PRWEB) January 31, 2013
Building and maintaining a trustworthy reputation is the most important focus of any company, new or old. But building this trust with consumers is not easy, especially in today's inquisitive society. It takes a strong foundation, detailed planning, sound execution, creative ideas and time to build a brand.
For years, companies have used the expertise of public relations firms to help communicate brand values and build their brand's reputation. One of the services offered by horticultural public relations firm, Garden Media Group, is branding. To help companies better understand the nature of public relations in building brands, Garden Media has released a branding case study.
"One of the biggest reasons a company in the lawn and garden industry comes to us is to help increase their brand recognition," explains Katie Dubow, Chief Creative Officer at Garden Media. "Our branding case study demonstrates the role public relations plays in building a brand's reputation that in turns, builds demand for the brand."
"People inherently want to have what is new, what is being talked about," says Susan McCoy, founder of the firm. "Building a brand's reputation first with public relations is the best use of resources. People pay attention to trusted sources like magazine editors and bloggers long before they ever see an ad."
The branding case study outlines the strategy for a particular product launch, shows hits and clips from coverage in the media, and uses metrics to measure the success of the campaign. Typical metrics used in the PR industry are impressions, which are how many people saw the story, and advertising value, which translates into how much it would cost to place an advertisement in the same publication.
Covering a range of years, the case study gives a yearly breakdown of these metrics and results to provide an in-depth view of Garden Media's accomplishments.
"It's clear when looking at the case study that public relations tactics are the best way to increase your brand's reputation," says Dubow. "There is so much competition for a consumer's attention today that it takes a brand a minimum of six touch points to even get noticed. When a trusted friend - the media or blogger - talk about a product or plant, consumers listen."
Public relations helps companies take a fresh and sharpened approach to brand building. To download the branding case study, click here.
Garden Media has 25 years' experience building brands in the home and garden, horticulture, outdoor living, lawn and landscape industries. Other services include new product launches, innovative PR campaigns, social marketing, media relations, and content marketing. For more information visit: http://www.gardenmediagroup.com