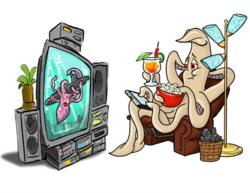 "With this upgrade version, all programs, files, settings, profiles of the user remain untouched. There is no need to install from scratch, or to uninstall a previous version."
North Vancouver, BC (PRWEB) January 31, 2013
TS Upgrade Home to Pro Remote App for Samsung is now available through Google Play. This upgrades the "Home" or basic Samsung version of the TouchSquid remote app to the PRO version. It raises the device and activity limits for a profile from 4 to 10. This also unlocks user defined Macros which can be applied to custom buttons or set to run when powering on or off devices or when entering or leaving activities. Don't go installing the app if you don't already have the home version though; it isn't a functional app on its own, but rather is an upgrade license for the home version.
The TouchSquid Remote Control App for Samsung is an Android app that allows full remote control of complex high end home theater systems. It works with built-in infrared blasters that many Samsung tablets have, or can be made to work with generic Android tablets with the addition of a supported external IR blaster (such as those made by Global Cache, Keene, and IRTrans).
Samsung has released four models of tablet computers that have built-in infrared blasters. They are the Samsung Galaxy Tab Plus, Samsung Galaxy Tab 2 7, Samsung Galaxy Tab 2 10 and the Samsung Galaxy Note 10.1. Used with these tablets, the TouchSquid app requires no other hardware.
Samsung Tab users can get the most out of their Samsung's built in IR blaster with this activity based universal remote control app. There are two versions available, called HOME and PRO (Professional).
The HOME version is limited to 4 devices per room profile, with no limit to the number of profiles and the ability to customize buttons and layouts. Single button Activity start turns on all devices in the activity and switches to the correct inputs. Setup is fast and easy, and does not require internet access.
For home theater enthusiasts who want the power of high-end remotes. The TouchSquid PRO (Professional version) can handle customizable buttons, adjustable timings and repeats, programmable macros, and support for several external IR blasters and serial controllers.
This TS Upgrade Home to Pro App allows existing TS Home remote app users a seamless upgrade path to the Professional version. Users are able to keep their existing profiles and settings and do not need to uninstall any previous versions.
About TouchSquid Technology
TouchSquid Technology Inc. is an emerging developer of Remote Control solutions for the home entertainment industry. Located in North Vancouver, BC, Canada, its flagship product is the TouchSquid all-in-one infrared universal remote control tablet. We welcome dealer and distributor inquiries. For more information, call 1-888-505-9895.