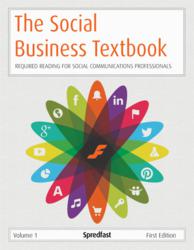 AUSTIN, Texas (PRWEB) January 31, 2013
Spredfast, the leading social marketing software provider, today announced general availability of "The Social Business Textbook," a comprehensive primer on social designed to help social communications professionals navigate the increasing complexity of social media programs. The textbook covers everything from creating social content, to engaging and targeting audiences to measuring success. The textbook also provides compelling social brand examples and offers readers actionable tips they can apply immediately to their programs. The textbook is free and available for download at: http://info.spredfast.com/Website_TextbookNews.html
Chapters in the textbook include:

History (Social Listening) – how to collect, study and track the social activity that pertains to your brand;
Government (Social Organization and Governance) – how to create organization and structure to manage all social activity;
Music (Orchestration) – how to orchestrate multiple accounts with multiple users;
Math (Measurement) – how to approach social measurement based on a company's goals;
English (Creating Social Content) – how to create and embrace quality content that is shareable;
Social Studies (Segmentation and Targeting Social Audiences) – how to identify and reach the right people with the right message;
Student Council (Social Engagement and Community) – how to build brand awareness and loyalty with interaction;
Chemistry (Paid, Owned, Earned) – how to effectively mix owned, earned and paid campaigns.
Spredfast's social media management technology platform is used by large enterprise brands to manage, monitor, and measure their social media programs at scale. Spredfast developed the textbook using insights gathered over several years of working with leading organizations such as Whole Foods Market, Warner Brothers and AT&T.
"Social media has become an integral part of the marketing mix for companies of all sizes. Today, the average company has 29 social users across 51 social media accounts," said Rod Favaron, CEO of Spredfast. "We wanted to provide brand marketers and social media managers with a guide that can really help them navigate the complexities of social and better connect their use of social with business outcomes. We hope practitioners enjoy reading the textbook and begin to utilize all the amazing insights we've gleaned from our years of working with enterprise brands."
About Spredfast
Based in Austin, Texas, Spredfast provides social media management software that allows organizations to manage, monitor, and measure their social media programs at scale. Spredfast enables more people, in more places, to engage in more conversations from a single platform on supported social networks like Facebook, Twitter, LinkedIn, YouTube, Foursquare, and popular blogging platforms. Some of the enterprise and agency adopters on board with Spredfast include AT&T, Jason's Deli, Warner Brothers, Whole Foods Market, AARP, AGAIN Interactive, Coty Beauty, HomeAway and WCG. For more information, visit http://www.spredfast.com
###