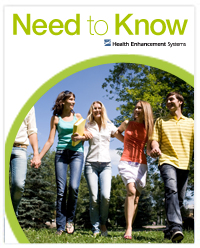 We wanted to help groups skip the mistakes and begin leveraging success right away.
Midland, MI (PRWEB) January 31, 2013
To help organizations zero in on the elements critical to successful workplace wellness programs, Health Enhancement Systems has developed a series of checklists -- the keys to achieving and maintaining high participation/completion levels. Gleaned from more than 20 years experience working with clients from Fortune 100 companies to regional health plans to small community colleges, the guidelines offer concrete actions to avoid common pitfalls and leverage the benefits.
The first 8 Need to Know guidelines include "Why Financial Incentives Backfire and What to Do Instead," "Team Wellness Challenges: 10 Keys to Success," "How to Turn Big Ideas Into Wellness Winners," "6 Steps to Raise Your Wellness Program's Profile," and "7 Traits of Great Wellness Program Leaders." Each distills experiences from thousands of organizations into clear steps to save wellness managers time and money as they pursue the right mix of services.
"So much of what we've learned in the industry -- the good and the bad -- gets recycled about every 5 years. We wanted to help groups skip the mistakes and begin leveraging success right away," explains Dean Witherspoon, President and founder of Health Enhancement Systems. "These new guidelines are simple checklists that cut through the clutter and draw the map to workplace wellness results."
The Need to Know series will evolve over time as new research and technologies expand the industry's understanding of what works and what doesn't in population health management. "There is more experimenting now in worksite wellness than ever given the technology advances of the last 10 years," comments Witherspoon. "It's exciting to see, but it also means there will be lots of misses along the way. If we can help our customers limit the misses and build on what works, we'll accomplish our goal."
To view the Need to Know guidelines, go to http://www.hesonline.com/needtoknow.
Health Enhancement Systems creates employee wellness programs for organizations in North America and throughout the world. More than 20 effective, engaging HES wellness campaigns have been adopted by over a thousand organizations -- serving hundreds of thousands of participants successfully.
For more information about Health Enhancement Systems, visit http://www.HealthEnhancementSystems.com or call 800.326.2317.