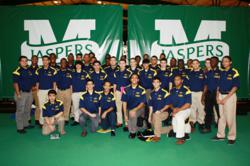 New York, NY (PRWEB) January 31, 2013
The program is very competitive: Over 90 students applied to be part of the Sports Medicine program in September of 2012, but only 44 were accepted. This groundbreaking program, combines advanced science, anatomy and chemistry classes along with practical internships.
Students in the Mount's vanguard Sports Medicine program, just launched in Sept. 2012, attended a lecture and demonstration of techniques for splints at Manhattan College on January 11, 2013.
The lecture was given by Doug Straley, Assistant Athletic Director For Sports Medicine and Head Athletic Trainer at Manhattan College. Doug advises the Mount St. Michael Academy Sports Medicine Program and is managing internships and lectures for the Program. The program will accelerate and widen opportunities for students who are working towards careers in sports medicine and the wider area of health care and medicine.
Dr. Anthony Maddalo '72, NY Rangers doctor and orthopedic surgeon, is the chief advisor for the program. Dr. Maddalo and his partner Dr. Greg Cavaliere at their orthopedic surgery practice, Hudson Valley Bone and Joint in Westchester, are providing externships for Mount Sports Med Students that will coordinate the class room medicine training and internships at Manhattan College with in-hospital operating room experience.