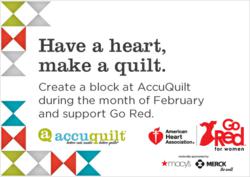 This collaboration is the perfect way our staff and our company can help support women's heart health.
–Lynn Gibney
Omaha, NE (PRWEB) January 31, 2013
AccuQuilt is giving quilters the opportunity to be a part of a national campaign dedicated to women's health through quilting for the American Heart Association throughout the month of February.
"Have A Heart, Make A Quilt" is a program that offers quilters the chance to create a quilt block that will be integrated in a Go Red For Women quilt series to be displayed and auctioned off at the Go Red For Women Expo in September.
Interested quilters of all skill levels are encouraged to visit the AccuQuilt headquarters to create a block and experience the joy of quilting in a fully stocked and expertly designed quilting studio. Visit http://www.accuquilt.com/heart for information on dates and times for quilting as well as detailed directions to the Omaha AccuQuilt headquarters. Fabric for the event is provided by Riley Blake Designs.
The blocks created by supportive quilters will be made into quilts and put on display at the annual Go Red For Women Expo. The quilts will be auctioned off to raise money and awareness for heart disease.
"Our goal is to reach 200 blocks and create eight or more quilts for the event," said Lynn Gibney, AccuQuilt Director of Marketing. "This collaboration is the perfect way our staff and our company can help support women's heart health and we're very excited to be so involved with this campaign. We also took part in a Facebook promotional competition for a free billboard through the American Heart Association in 2012. Working with the American Heart Association, we came up with the 'Have a Heart, Make a Quilt' campaign and it will be a part of the billboard that the public will be able to view starting in January."
This billboard will be on display from January 28 through February 21 while the "Have a Heart, Make a Quilt" campaign will run through February 28. Look for information on social media and more promotional activities building up to the Go Red For Women Expo held in September. Visit http://www.goredforwomen.org/ for more information on the Expo and to learn more ways to help support women's health by joining the fight against heart disease.
About AccuQuilt – Better Cuts Make Better Quilts®
Headquartered in Omaha, Neb., AccuQuilt offers quilters, fabric crafters and retailers a premiere line of fabric cutters, dies, quilting patterns and other quilt and fabric cutting solutions that help quilters quickly and accurately cut shapes for quilting and fabric crafts. AccuQuilt also offers quilters a wide variety of rich educational resources to enhance their quilting experiences. Cutting with AccuQuilt cutters is a natural evolution of fabric cutting methods. "First scissors…then rotary…finally…AccuQuilt®" for fast, easy, accurate fabric cutting. Visit http://www.accuquilt.com for more information.
# # #