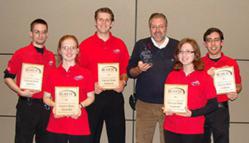 (PRWEB) January 29, 2013
The Liberty University Quiz Bowl team took home its seventh Big South Conference championship in eight years Saturday at Gardner-Webb University, going undefeated for the third-straight year.
The team posted a 6-0 record in the competition, which is part of the conference's Academic Consortium, designed to develop institutional relationships outside of athletics.
"One of the best single parts of the tournament was hearing a toss-up question devoted to the founder of the Moral Majority and our team knowing instantly that it was our founder, Dr. Jerry Falwell, Sr.," said Dr. Jim Nutter, Liberty's coach.
This year's team is comprised of senior Jake Rogers (captain), sophomore Kaity Shondelmyer; and first-year players Doug Stephens, Jon Bateman, and Greta Hanks.
The team heads to the National Academic Quiz Tournament Sectionals at the University of Tennessee, Knoxville on Feb. 9 to compete against schools from the ACC and SEC, including Vanderbilt, University of North Carolina, University of Alabama, and Virginia Tech.
Quiz Bowl, often called "the varsity sport of the mind," is part of Liberty's rigorous Honors Program. It includes players from a variety of majors; several members are National Merit Finalists on full academic scholarships. Competitions resemble "Jeopardy," with teams buzzing in to answer questions on literature, history, geography, government, the sciences, math, art, popular culture, and sports.
"We have done our best to follow Dr. Falwell's motto, 'If it's Christian, it should be better', and we are continuing to demonstrate to the world that a Christian worldview and academic excellence are not mutually exclusive," Stephens said. "For the freshmen members of the Big South team, this win has given us a new confidence as we prepare to travel to the regional championships. For me, this win means that I have been using my God-given skills to my utmost."
Big South Conference Championship wins:
Liberty 235, Presbyterian 115
Liberty 150 Longwood 75
Liberty 130 High Point 20
Liberty 465 Winthrop 40
Liberty 150 Coastal Carolina 80
Liberty 170 Gardner-Webb 100
Liberty University, located in Lynchburg, Va., is the world's largest Christian university. Nearly 100,000 students attend classes on its 6,800-acre residential campus and study in its thriving online education program.