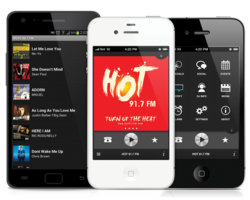 At $500, the 'Online Station Package' is the best deal ever for online radio stations looking to create a comprehensive mobile radio app.
Houston, TX (PRWEB) January 30, 2013
Onseeker® Technologies has just launched it's newest tiered option for radio stations looking to go mobile. The newest tier (exclusively available for online stations only) is called the 'Online Station Package', and is priced at just $500 per year for online only radio stations/streams. The $500 price includes the creation of both an iOS radio app and Android radio app. For even greater flexibility, the online station can choose to deploy on a single platform and reduce the yearly cost by $250.
The team at Onseeker® noticed that online radio stations and streams were looking for a simple, clean smartphone app that could provide their listeners with basic necessities without much additional content. Frank and his creative team sat down to discuss what they could offer online only stations while still allowing for unique app-side engagement.
"Our goal isn't to limit the radio apps for online stations, but rather provide exactly what they need on a mobile device, and perhaps a little bit more than they expect from a typical radio app," said Frank Danna. "So we removed a few of the add-on features, and kept the industry-leading components so that it would still be the most comprehensive mobile radio app they'll ever create."
The components Frank mentioned include all of the following for the Online Station Package:
-A High Quality Audio Stream (HEAAC+) with Meta Data
-On-Device Background Audio
-Rotating Images w/Scheduling Option
-Push Notifications w/Scheduling Option
-Sharing / Favoriting / Purchasing Song From Device
-Social Media Section
-About Section
-Contact Area
-Google Analytics Integration
-Access to Online Admin Portal 24/7
-Turn App Features On or Off
-Rename/Rearrange Icons
"At $500, the Online Station Package is the best deal ever for online radio stations looking to create a comprehensive mobile radio app," mentioned Roy Gonzalez, COO at Onseeker®. "Even though we've toned down the features from our other packages, it's still leaps and bounds better than any other mobile app solution for online radio.
He continued, "Many competitors don't even let clients update their own apps content - a feature that comes standard with any of our radio app packages! Plus, it rounds out our radio app offering by giving clients a choice to start small and grow into something with more engagement over time."
Onseeker's mobile radio app offering now boasts four pricing options:
-Online Station Package - $500/yr *Online Radio Stations Only*
-Basic Package - $1000/yr
-Standard Package - $2500/yr
-Premium Package - $3000/yr
Starting today, interested online only stations can contact Frank Danna or Roy Gonzalez directly to discuss getting their station established as a mobile radio app, or visit ONSEEKER.COM to learn more. If stations are interested in seeing a live Onseeker® mobile radio app in action, they can click here to preview an iOS app, and here for the Android version.
To learn more about Onseeker® Technologies, please visit http://www.onseeker.com.
About Onseeker® Technologies:
Onseeker® Technologies is one of the largest mobile app developers in the United States. With over 300 apps developed and deployed they continue to provide their clients exceptional apps at remarkable prices. Onseeker® excels in providing platform based apps for radio stations, churches and ministries, authors, sports and restaurants. They also develop custom applications and mobile sites for companies looking to take their content and experiences mobile.
Media Contact:
Frank Danna
281-664-7951
http://www.onseeker.com