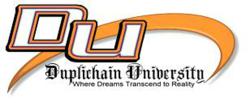 Lake Charles, Louisiana (PRWEB) January 30, 2013
Duplichain University was founded in 2008 and awarded their first license by the Board of Regents in Louisiana in 2008. Duplichain University has seen continued enrollment and has obtained additional partnerships with other entities. Based off their continued growth the Board of Regents voted to extend the University's licensure.
Duplichain University is a global online learning institution offering undergraduate and graduate degrees in Education and Criminal Justice. Duplichain University offers an innovative learning approach in a supportive, nurturing and flexible academic environment. Students enrolled in Duplichain University develop, refine, strengthen, and enhance their skills in a discipline of their choosing, while maturing academically, intellectually, and personally.