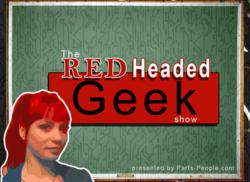 The series hosted by Daria Morgan will include snappy recaps of some of the week's more interesting & entertaining technology news items.
Austin, TX (PRWEB) January 31, 2013
Parts-People.com is adding a weekly technology video series to compliment and expand its Technology News & Information services. The series hosted by Daria Morgan includes snappy recaps of some of the week's more interesting and entertaining technology news items. Every week that tech video series called "The Red-Headed Geek Show" provides provocative and sometimes controversial summaries of technology items in the news, with a focus on the innovative, mind-boggling, or just plain ridiculous.
Some of those technology news round-ups contain brief overviews with additional information or ramifications, while some video segments introduce material that viewers may have missed in the previous week including timely updates and observations.
Samples of upcoming video capsules include succinct recaps of news items such as:

How Google keeps law enforcement at bay when the search giant receives warrants or requests for information on consumers' accounts
Unlocking some cell phones is now illegal, but not all of them
Raspberry Pi Mini Computer developments such as: a Pi-powered R2-D2 look-a-like; the first adult video game developed for the Pi; and Google to supply Raspberry Pi PCs to 15,000 students in the United Kingdom
A snap look at Google's driverless cars
A well known celebrity who keeps computers and smartphones out of his life
About Parts-People.com
The online store at Parts-People.com provides refurbished laptops for buyers who prefer a familiar operating system (OS) on hardware with a proven package of drivers.
As part of its online comprehensive knowledge-base resource center the Parts-People.com web-site delivers Technology News & Information services including a news section covering the latest gadgets, and a section devoted to Inventions & Innovations. Some of those technology news articles have the goal of making geek fun, with things that make people say wow.
Parts-People.com now stocks more than 250,000 Dell laptop parts, and operates an online store which provides one of the largest selections of Dell replacement parts on the internet.
The Parts-People website serves a large number of businesses, school districts, government agencies, non-profits, and individual consumers that will not, or cannot make eBay purchases for a variety of reasons. The technical staff is composed of experts trained specifically to work only on Dell products; a significant reason that individuals and organizations order replacement parts or ship their laptops to Parts-People, from all over the world, for service or repair.
Roscoe Dyer, Parts-People's Director of Social Media, produces online tutorial, do-it-yourself, how-to-repair laptop videos, and Dell laptop repair manuals which are updated on a daily basis.
Established in 2002 as a start-up, entrepreneurial, family-owned business, the company's rapid growth in 2003 became the reason for consolidation of operations in 14,000 square-feet of mixed retail, office, and warehouse space.
The company is continually increasing parts inventory of wholesale Dell laptop parts in Austin's growing technology hub. Parts-People.com now stocks more than a quarter of a million notebook replacement parts physically in-house, on-site, and ready to ship the same business day.
The growth of Parts-People.com is complimented by its location in Austin, which is known world-wide as a technology hub. The area is also home to offices of companies such as: AMD, Apple, Cirrus Logic, Dell, Evernote, Facebook, Freescale, Google, HP, IBM, Microsoft, National Instruments, Nvidia, PayPal, Silicon Labs, and 3M. Often called Silicon Hills, Austin is also known to art, music, and SXSW (South-by-Southwest) aficionados as simply, "the ATX".
Contact Information
Parts-People.com can be reached toll-free at 866-816-5254. The main phone number is 512-339-1990. Fax: 512-339-1996. Technology Journalist: paul.b.wordman(at)gmail(dot)com, paul.bottoms.wordman(at)turbo12(dot)com. Company E-mail: info(at)parts-people(dot)com.