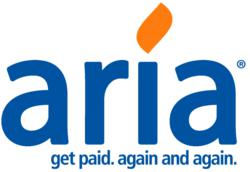 Aria Systems, Cloud-based Billing Innovator Hits a $1.3 Billion Milestone
San Francisco, CA (PRWEB) January 30, 2013
Aria Systems, whose cloud services power subscription commerce for fast-moving business, today announces a series of business performance metrics that solidify its leadership role in the rapidly growing cloud billing industry. By putting numbers on the board that include $1.3 billion in transaction volume, and more than 100 percent revenue growth, Aria is demonstrating that the full spectrum of global businesses – from start-ups to large enterprises – are moving rapidly towards business models based on subscriptions and consumption. This causes a transformation in the traditional thinking of what constitutes a "purchase."
In 2012, under the leadership of CEO Tom Dibble, Aria Systems added many marquee companies to its roster of cloud billing customers including AAA NCNU, Pitney Bowes, Red Hat and VMware.
Aria's cloud-based billing platform appeals to customer-centric companies that require flexibility and scale to support growth and customer loyalty. Changes such as adding or modifying products, bundles or pricing can be rolled out as needed, far faster than the weeks or months needed with other solutions. Aria also gives customers the ability to bill for their products and services on a subscription basis, consumption basis or any combination of the two. These innovations give Aria customers the ability to quickly iterate their offerings in ways that were previously impossible. This makes the platform a clear choice for those who view advanced billing competencies as a strategic path to improved acquisition, deeper customer loyalty, and predictable growth.
On Tuesday, Aria Systems introduced its new fully-integrated business intelligence capabilities that enable companies to gain further strategic benefits from their billing systems. These features enable clients to look even deeper into their customer behavior and take advantage of trends and opportunities that lie hidden in the data.
"As evidenced by our strong growth and impressive customer base, more companies are realizing that their billing systems can be a strategic advantage to their business goals, not an impediment to their growth as has historically been the case," said Tom Dibble, CEO, Aria Systems. "As we continue growing and innovating in 2013, we know that working closely with – and listening to – our service-centric customers will enable us to realize the future of subscription and consumption-based billing."
About Aria Systems
Aria Systems delivers the full power of subscription commerce to transform business by creating new opportunities, bettering customer relationships and providing more business predictability. The Aria Subscription Billing and Management Platform was chosen by brand name companies such as Pitney Bowes, Red Hat, Ingersoll Rand, EMC, VMware, and HootSuite to evolve their company's subscription businesses while delivering outstanding customer experiences.
Please consider downloading the Maximizing Revenues through Customer Subscription Processes whitepaper. Visit http://www.ariasystems.com or call 1-877-755-2370.
Any unreleased services, features or functions referenced in this document, our website or other press releases or public statements that are not currently available are subject to change at Aria's discretion and may not be delivered as planned or at all. Customers who purchase Aria Systems, Inc. services should make their purchase decisions based upon services, features and functions that are currently available.
© 2013. Aria Systems, Inc. All rights reserved. The ARIA logo is registered trademark of Aria Systems, Inc. All other brand and product names are trademarks or registered trademarks.