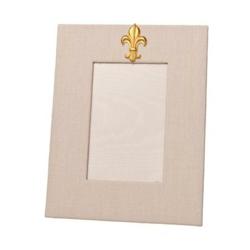 The Garden Gates is the place to get favors with a New Orleans theme in mind.
Metairie, LA (PRWEB) January 31, 2013
Southern Living Weddings Magazine has featured some of The Garden Gates' products in an article in the 2013 edition. The article focuses on welcome baskets for different cities, and The Garden Gates is the place to get favors with a New Orleans theme in mind. For this article, the editors of Southern Living chose The Garden Gates because of its collection of products to use as favors, wedding party gifts and even bridal gifts.
Items from The Garden Gates featured in the picture and mentioned are the teal rattan tray from Michel Designs and the Jan Sevadjian linen fleur de lis frame. Items from The Garden Gates that were included in the picture but not mentioned are the India Stewart gold leaf crown sculpture, Nouvelle glass candle in New Orleans and a little soap from Mathilde M.
The Garden Gates has a shop located in Old Metairie, a suburb of New Orleans, and also an online lifestyle store with local and national clients as well as international customers. Specializing in everything from luxury bedding, outdoor patio furniture, women's clothing and accessories, home decor and gifts, The Garden Gates is a place to find unique items and special pieces.
The beautiful picture in Southern Living Weddings is thanks to a collaboration of local event planners, stylists and photographers. When photography know-how and natural style come together, the outcome is truly beautiful.
Find the latest news on The Garden Gates.
For more information, please visit http://www.thegardengates.com or call 1-877-780-6699.
About The Garden Gates:
The Garden Gates was founded by Jacqueline Elizabeth Kendall-Harris and Chad Harris in 1999. Jacqueline plays an instrumental role in product development, interior design and in developing core principles in The Garden Gates lifestyle. Chad plans in important role in the creativity of the brand, marketing and technology of the business.