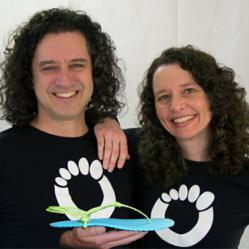 I just hope I don't look like a dork in front of 7.5 million people!
Boulder, CO (PRWEB) January 30, 2013
The co-founders of Boulder, Colorado footwear startup, Xero Shoes will appear on ABC's hit reality-business show, Shark Tank, on February 1st at 9pm ET/8 CT.
Husband-and-wife team, Steven Sashen and Lena Phoenix will attempt to get an investment in their barefoot sandal company from the 5 professional investors, the "Sharks."
ABC reports that over 30,000 entrepreneurs applied to appear on this season's shows, putting the Xero Shoes team in rarified company.
COO, Phoenix, says , "Steven and I spent three years watching Shark Tank, rehearsing how we would respond to every comment and question. So actually walking down the Shark Tank hallway, standing in front of the investors... that was totally surreal."
Asked why they applied to appear on the show, Xero Shoes CEO, Steven Sashen, says, "We're competing against some billion dollar shoe companies. An investment -- of both finances and business skill -- from any of the Sharks is exactly what we need to accelerate our growth."
Sashen and Phoenix had been sworn to secrecy about the outcome of the show and, until 2 weeks ago, the fact that they even taped an episode. "The hardest part of keeping the secret," says Sashen," was when people would spend 20 minutes telling us that we'd be perfect for Shark Tank!" Phoenix adds, "We got good at saying, 'We think so, too!'"
"Our biggest hope," says Phoenix, "is that more people discover why our product has changed the lives of our 25,000+ customers and then decide to experience it themselves. "
"And" adds Sashen, "that I don't look like a total dork on TV."
Sashen will be live Tweeting during the show via @xeroshoes and with #SharkTank.