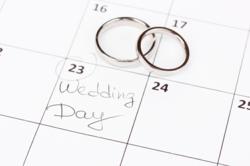 Newport Beach, CA (PRWEB) January 30, 2013
A wedding sans the wedding planner is not unheard of, but may lead to added stress and delays during the wedding planning process, reports Wedding.com. Even celebrities that opt to forego handing the reigns over to a wedding planner admit to difficulties in planning their special day.
Actress Katrina Bowden is a perfect case in point. The 24-year-old 30 Rock actress told PEOPLE in an interview that she has been planning her eventual wedding to Ben Jorgenson, admitting she does not have a wedding planner and is stressed out. For whatever reason -- whether it is a lack of financial ability or just a personal choice -- many brides choose not to hire a planner, instead shouldering all the responsibilities of the day themselves. Wedding.com experts agree that a wedding planner does not necessarily make or break a wedding celebration although not having one will likely entail more work for the bride and groom.
"Having a wedding planner is ideal because someone else can do the legwork for you. Then again, it is absolutely possible to plan the wedding yourself," said Brett Reynolds, CEO of Wedding.com. "If couples choose not to utilize a wedding planner, they should at least consider booking a day-of coordinator. It is inevitable that not everything will go according to plan and a day-of coordinator will handle any issues that arise while allowing the bride and groom to enjoy their special day."
For more information about Wedding.com, please visit http://www.wedding.com.
About Wedding.com
Wedding.com is an innovative new website that connects engaged couples planning their wedding with wedding vendors looking to grow their business. Wedding.com contacts vendors for couples, giving them the power to compare and negotiate while ultimately saving time and money. With 11,000 couples and 20,000 vendors currently using the website, 87,000 proposals have already been sent since their inception. Vendors range in services from wedding planners, photographers, florists, and DJs to custom invitations, party favors, and much more. For additional information about the company and its services, please visit http://www.wedding.com.