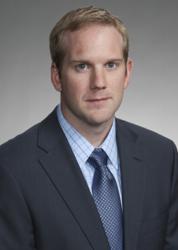 Denver, Colorado (PRWEB) January 30, 2013
Holland & Hart LLP is pleased to welcome Nikolas Stoffel to its Energy and Infrastructure Group. Mr. Stoffel is based out of the firm's Denver office.
Mr. Stoffel focuses his practice on transactional matters, including the development and financing of projects in the energy and infrastructure sectors and mergers and acquisitions.
Mr. Stoffel received his J.D. from Washburn University School of Law, and his B.S. from the University of Denver
About Holland & Hart
Holland & Hart LLP delivers integrated legal solutions to regional, national and international clients of all sizes.
Since its inception in 1947, Holland & Hart's more than 400 lawyers have consistently been recognized by leading national and international peer and industry review organizations for innovation and dedication to the practice of law.