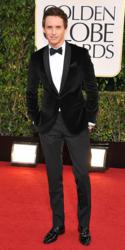 For those who have a strong interest in fashion and style, there's nothing better than watching an award show
San Francisco, CA (PRWEB) January 30, 2013
Cheap-Neckties.com, an online specialist for ties and men's fashion accessories, today announced their picks for the 5 best-dressed men at the 2013 Golden Globe Awards. Making the cut are notable names such as Hugh Jackman, Daniel Craig, and Damian Lewis. While all of them wore classic black tie ensembles, it was how they put their wardrobe together that made them stand out from the crowd.
"For those who have a strong interest in fashion and style, there's nothing better than watching an award show," says style blogger and the site's founder Hendrik Pohl. "Celebrities who attend these events know that they're going to be in the eyes of millions, and thus pull out all the stops with the ensembles they choose. It doesn't hurt that they typically have the money to afford nothing but the best, either; many celebrities actually have designers flock towards them in order to design their outfits. Since the Golden Globe Awards are highly publicized, we thought it would be appropriate to do a series on the best-dressed men at the event."
Each person highlighted in the series is given their own article focusing on their approach to style at the event. Aziz Ansari is highlighted, for example, for his smart, slim-fit Dior Homme suit, while Hugh Jackman gets a nod for his Louis Vuitton diner suit. Eddie Redmayne, Daniel Craig and Damian Lewis also find themselves being part of the series.
"It would be impossible to give credence to all of the men who showcased a good look at the 2013 Golden Globes," says Pohl. "There simply isn't enough time in the day, especially given the fact that so many men pulled out all the stops. We're confident in our choices for best-dressed, however; these men went above and beyond with the ensembles they chose to wear. It just goes to show that black-tie apparel still matters in an age where casual attire seems to be at the forefront of men's fashion."
Cheap-Neckties is well-known among the online men's fashion community for publishing article series' on celebrity fashion. In addition to awards shows, men's fashion in politics and sports is also covered regularly.
"We try to keep our series' as fresh possible by keeping up with current events," says Pohl. "The Golden Globe Awards have been on our minds for months, and we're excited to finally release our picks for 'best-dressed' to the public. It's important to note that while there is entertainment value here, one of the main reasons we post these series' is to showcase to our readers the fact that dressing well still matters in today's world, and doesn't have to be difficult."