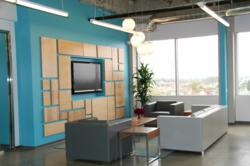 "TechSpace invites businesses to come take a tour of our new TechSpace Costa Mesa location that features smartly configured office space floor plans designed to promote worker productivity in a collaborative environment," said Victor Memenas, CEO
Costa Mesa, CA (PRWEB) January 30, 2013
It is a new year and many small businesses, entrepreneurs, and innovators are looking to improve or grow and a new office space is a great place to start. TechSpace Costa Mesa has released a limited time offer for affordable office space. A business will get the first month free of rent when they sign up for six months of office space.
"TechSpace invites businesses to come take a tour of our new TechSpace Costa Mesa location that features smartly configured officespace floor plans designed to promote worker productivity in a collaborative environment," said Victor Memenas, CEO. "TechSpace is offering a special where you get the first month free with any new agreement."
The office space is flexible, including scalable offices, fully-equipped conference rooms, and various business office services. An advanced on-site technology platform provides enterprise-class, Tier 1 IT infrastructure complete with a private, firewalled data network, dedicated and burstable internet connectivity, secure Wi-Fi, advanced voice telecommunications, and e-mail, web, and application hosting services. With everything from workstation furniture, mail room and service center, and reception services, companies are able to preserve capital and keep overhead to a minimum. TechSpace helps manage the day-to-day details so you can better manage your business.
For more information about the New Year Special and how a business can take advantage of the special, please contact Meryl Rich at mrich(at)techspace(dot)com or 949.330.7000.
About TechSpace
With multiple facilities across the United States, TechSpace's unique outsourcing platform for companies combines flexible workspace options with completely integrated state-of-the-art technology and business services. This "alternative office space" formula preserves capital and keeps overhead to a minimum, creating an ideal solution for small-to-mid-sized companies, especially during today's unpredictable economic times. Scalable terms allow room for upsizing or downsizing as necessary without the high cost of moving, including everything from workstation furniture, advanced voice and data telecommunications, IT infrastructure, reception services and office supplies.