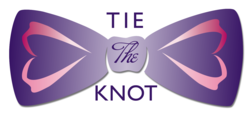 This is meant to be a fashionably fun activity that sends a clear message
Houston, TX (PRWEB) January 30, 2013
A team of LGBT advocates and leaders within various 501(c)(3) local and national organizations have created a national event to raise awareness that same-sex couples who are in loving and committed relationships exist, but lack the state and federal legal and financial protections that comes from civil marriage.. The Valentine's Day campaign comes as the US Supreme Court and lawmakers in several states weigh new legislation to expand civil marriage rights to same-sex couples.
Using Facebook and Twitter, the Houston team devised a simple yet effective communications plan to spread the action for supporters of marriage equality to wear a bow tie on February 14 and post the photograph to Facebook and/or Twitter with the caption "I Support Marriage Equality! #TieTheKnot".
Actor Jesse Tyler Ferguson and his boyfriend, Justin Mikita started the Tie the Knot foundation to sell bow ties to raise money for marriage equality. Now the group of LGBT individuals have come together to support Jesse and his Foundation, "Tie the Knot" to further attention on legalizing same-sex marriage.
The goal is for Facebook and Twitter users to share the invite and participate in wearing a bow tie on February 14. Because of the power of social media, it is anticipated this will become an overnight phenomenon, demonstrating the support of basic civil rights including marriage equality.
"The beauty of this activity isn't exclusive to the LGBT community, nor is it set for a specific location," says Trevor Eade, one of the organizers. " This is an awareness campaign where anyone who supports marriage equality has the opportunity to wear a bow tie on Valentine's day, and post online to Facebook or Twitter with the caption, 'I support marriage equality'. This is not limited to those only living in the Houston area," explained Eade.
"This is meant to be a fashionably fun activity that sends a clear message. I hope this becomes one of those 'water cooler' talking points in the workplace where social issues and personal stories are shared," continued Eade.
With a Supreme Court decision expected sometime early summer, and if the high court lifts a ban on gay marriage in California, more than a quarter of the population will live in states where gay marriage is legal.
"As Americans see their gay and lesbian friends, families and coworkers in loving and committed relationships, they realize there is no good reason to withhold the protections and support that only comes with marriage," said Meghan Stabler, one of the group's organizers.
A gradual shift in public opinion has been taking place. In a December USA Today/Gallup Poll, the 53 percent who agreed that same-sex couples should have the same marriage rights as heterosexual couples was nearly twice the percentage who said so in 1996.
Within the first 10 days of posting the event to Facebook more than 27,000 Facebook users have received an invitation to participate: https://www.facebook.com/events/545069172183823
###
For more information about the Tie The Knot Foundation visit: http://www.tietheknot.org
To contact the Foundation's PR firm email: JRoscoe(at)id-pr(dot)com
To contact Trevor Eade email: TrevorEade(at)gmail(dot)com