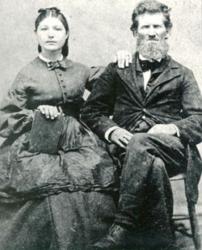 It was fascinating—and frightening— to think of myself traveling in 1854...
Lindsborg, Kan. (PRWEB) January 31, 2013
While researching for her Trail of Thread book series, Butterfield Books Inc.'s author Linda Hubalek looked into the reason her Pieratt and Kennedy ancestors moved to Kansas.
As the state of Kansas celebrates their 152nd birthday this week, one wonders why people decided to venture out into the open prairie of the Great Plains in the first place.
The answer was free land with the 1854 opening of the Territory of Kansas and Nebraska. A surge of settlers took that opportunity to move in, stake out land claims, and build brand new towns.
"Besides searching in family, cemetery and state records to find clues, I drove to Kentucky and back to Kansas to see what route the Pieratt's would have taken, what towns were in existence, and the scenery they would have seen. It was fascinating—and frightening— to think of myself traveling in 1854, going only ten to fifteen miles a day, wondering how was I going to get my wagon, family, and belongings across rivers and steep trails.
I was plagued with the questions the women would be asking of themselves and their husbands about the reason for the move, and how to prepare for it, because I sure would have been asking my husband about it," said Linda Hubalek.
Hubalek's research led to her writing of the Trail of Thread book series, using a women's point of view to tell the story of how her ancestors homesteaded in the area that would become Lawrence, Kansas. Because Hubalek's ancestors were also quilters, she wove the stories of some of their quilts into the series too.
For more information about the women's role in homesteading Kansas during its first years, be sure to read Linda Hubalek's books, Trail of Thread, Thimble of Soil and Stitch of Courage. These stories, written in the form of letters, tell the tales of three courageous women that packed up their families and settled in Kansas—right before the Civil War. These books (also in ebook form) are available in stores, or online at http://www.Amazon.com or http://www.ButterfieldBooks.com.
About Butterfield Books Inc.: Founded in 1994, Butterfield Books Inc. publishes and promotes books about Kansas and its pioneer history. The company is located in Lindsborg, Kansas, known as "Little Sweden USA."
About Linda K. Hubalek: LInda Hubalek has written ten books, published by Butterfield Books Inc., including the Trail of Thread, Butter in the Well, and the Planting Dreams series about pioneer women that made Kansas their home.