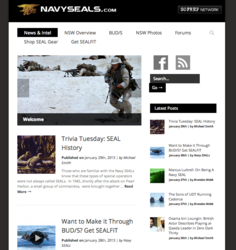 I am excited to partner with Brandon and SOFREP to take our NavySEALs.com platform to a new level in the world of online media for military, special operations and foreign affairs matters" –Mark Divine, CEO of US Tactical
San Diego, CA (PRWEB) January 30, 2013
In times of war or uncertainty there is a special breed of warrior ready to answer our Nation's call. A common man with an uncommon desire to succeed. Forged by adversity, he stands alongside America's finest special operations forces to serve his country, the American people, and protect their way of life. We call him a Navy SEAL. SEALS and civilians can unite for news, intel, NSW, BUD/S, photos, forums, SEAL gear, SEALFIT trainings, and more at the newly revamped, NavySEALs.com. This site has something SEAL related for everyone.
NavySEALs.com is part of the US Tactical Company Group also including: SEALFIT, US CrossFit Encinitas and Unbeatable Mind Academy. SOFREP.com is the number one site on the Internet for Special Operations News and Information. The partnership couldn't make more sense. NavySEALs.com is enhanced under the SOFREP Media network.
"I'm excited about our partnership with Mark Divine's organization. He's been a great friend and mentor. Our community gains a huge advantage in that we now have direct access to US Tactical's incredible network of fitness and mental toughness offers. SEALFIT, U.S. CrossFit, and the Unbeatable Mind Academy" –Brandon Webb, President & Editor of SOFREP MEDIA
Under the new Network, NavySEALs.com remains authentic and unique still being operated by real US Navy SEALs. What to look for? SOFREP enhances the site with daily content updates, a more extensive photo gallery, a new "Ask a Navy SEAL" forum, and more. These enhancements will create a better user experience, taking the site to the next level.
"I have known Brandon Webb for many years, he is a top notch SEAL and business operator. I am excited to partner with Brandon and SOFREP to take our NavySEALs.com platform to a new level in the world of online media for military, special operations and foreign affairs matters" –Mark Divine, CEO of US Tactical
Navy SEALs are a unique breed of warrior who conduct special operations in any environment, but who are uniquely trained and equipped to operate from, around and in maritime areas. Their small highly trained teams usually work quietly at night conducting some of the nation's most important missions. Learn more and get involved at NavySEALs.com.
Press Inquiries? Contact Tiffany Melone at (858) 224-2460 or tiffany(at)deliciousbuzz(dot)com.
More on Mark Divine: With an MBA from NYU Stern School of Business and a CPA in his briefcase, Mark learned the majority of his good leadership skills when he became a Navy SEAL officer. Mark since started his career as an entrepreneur and is now running successful US CrossFit and SEALFIT Campuses in the heart of North County San Diego, training thousands via his online Unbeatable Mind Academy, and enlightening others via his numerous trainings and publications. Often tasked with developing programs to help prepare students for the physical and mental riggers of BUDS/SEAL training, Divine also runs world renowned Kokoro Camps, intense crucible 50 hour experiences modeled off of the famous Navy SEAL Hell Week.