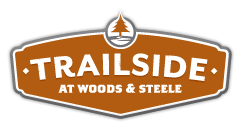 We wanted anyone who wanted to ride the ability to come to Trailside and get right on the trails. This is what this community is all about, getting out there and having fun
Cle Elum, WA (PRWEB) January 31, 2013
Trailside at Woods & Steele, a new premier mountain gated community in Upper Kittitas County is now hosting snowmobile rentals. Webb Powersports, is renting the snowmobiles and is Central and Eastern Washington's premier power sports company specializing in snowmobile, motorcycle and ATV needs.
Renters will be able to ride directly out of Trailside at Woods & Steele on the community trail system built to allow each home direct trail access to reach the 40,000 acre Manastash Recreational Area. "We wanted anyone who wanted to ride the ability to come to Trailside and get right on the trails. This is what this community is all about, getting out there and having fun" Says Sean Northrop, owner and founder of Sapphire Skies Land Company, the developer of the Trailside at Woods & Steele Community.
Featuring 65 open concept mountain cabins on 135 acres, the Trailside community was built around the idea of outdoor recreation. It not only has trails linking each of its open concept mountain cabins to the 40,000 acre wooded Manastash recreational area but also has trails throughout the community with 54 acres of dedicated green space that is open to all community members.
About Sapphire Skies Land Company:
Sapphire Skies excels at providing high-quality, affordable residential land and homes that celebrate connections to the outdoors, small-town values and four-season country lifestyles. Founded in 2000 in downtown Cle Elum, Sapphire Skies is comprised of a team of individuals committed to the Upper Kittitas County community. To learn more about current projects, including homes and the community at Trailside at Woods & Steele, please visit http://www.TrailsideHomes.com. For more information on Sapphire Skies please visit http://www.SapphireSkies.net.
About Webb Powersports
Webb Powersports is located in Ellensburg, WA and sells KTM Motorcycles, Can Am ATV's and Ski Doo Snowmobiles as well as parts and service. An avid rider and racer throughout his life, Matt Webb opened Webb Powersports in 2007. To learn more about Webb Powersports please visit http://www.webbpowersports.com