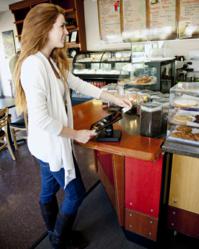 "We want our resellers to be comfortable selling our products when representing their services and software." Trevor Orrick, VP of Sales, Solveitstore.com
Simi Valley, California (PRWEB) January 30, 2013
The iPad has fueled the growth in mobile payments and iPad point of sale systems. With the always changing tablet options retailers and software companies are concerned about committing to inventory of hardware specific accessories like stands and enclosures. Solve-It! Store's drop ship program was introduced to eliminate the problems of inventory. This is good news for companies that use both iPad and other Android tablets and require a POS Stand.
"Many of our retail and software partners have requested drop shipping to their customers. Now they have an easy online solution. Our drop ship price include shipping to make it easy for our resellers to price and sell. Says Trevor Orrick, VP of Sales at Solve-It! Store."
When placing a drop ship order resellers have the option of having the product branded with the Pad Grip logo or non branded. Private labeling is important to software companies where their product and brand is their application. Trevor Orrick says "We want our resellers to be comfortable selling our products when representing their services and software."
Products used for iPad point of sale and Android Point of Sale that are available for drop ship include:
Pad Grip Magnetic
Pad Grip Combo
Pad Grip Executive
Pad Grip Artisan
Pad Grip Pro S
Pad Grip Universal
iTab Pro POS
Solve-It! Store has been in business since 1984. We proudly manufacture all of our products in California. Our Tablet Stands are compatible with iPad, Nexus, Asus, Samsung and Kindle Fire. Contact Trevor Orrick to to become a reseller, distributor or OEM partner.