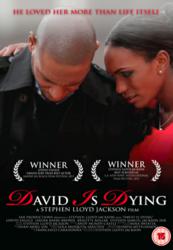 A first for any British movie.
Los Angeles (PRWEB) January 31, 2013
SAR Productions is proud to announce the multi-award winning 'David Is Dying' can now be streamed for a 7 day rental period or bought by way of video download exclusively from Amazon.com. It can also be purchased on DVD.
'David Is Dying' has played in over 15 international film festivals alone in the United States including festivals in Chicago, New York and Los Angeles. The movie scooped 'Best Director' Stephen Lloyd Jackson and 'Best Male Actor' Lonyo Engele, at the 15th American Black Film Festival in 2011, a first for any British movie.
Synopsis: A successful hedge fund manager, David Brown, has just been told that he is HIV positive. He is informed of the possibility that his unborn child could also be infected and so too the child's mother, his long-term fiancée, Carla. Through an intense therapy session with his psychiatrist, David takes us on a pernicious journey that starts twelve months prior - the women, the sex and the demons.