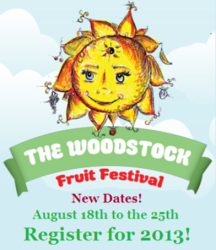 "Ashton Kutcher's recent hospitalization seems very suspicious of having anything to do with following a proper fruit diet. It was much more likely a case of a serious detox" Michael Arnstein, Fruitarian and founder of The Woodstock Fruit Festival
New York, NY (PRWEB) January 30, 2013
In response to recent news stories covering Ashton Kutcher's fruitarianism experience, The Woodstock Fruit Festival is offering free entry to the event for the celebrity.
"Ashton was likely experiencing intense detox symptoms. We've reached out to invite him to the fruit festival" Michael Arnstein, founder of The Woodstock Fruit Festival, which is attended by over 700 fruitarian diet proponents.
"We'd be very honored if he would accept an invitation to our event. Fruitarianism has steadily grown among athletes and health enthusiasts with very different results than Mr. Kutcher experienced. I think he would do well to take another look at the diet and lifestyle from people that have been very successful with it." Arnstein says.
Arnstein protests that fruitarianism allowed him to become an elite ultra runner and marathoner. Finishing the 2011 New York City Marathon as the 5th American overall and setting the 8th fastest American time in the 100 mile ultra distance, in 12 hours and 57 minutes (7:46 per mile average for 100 miles).
Anne Osborne, 20+ year fruitarian and festival administrator said,
"Steve Job's biography by Walter Isaac, clearly states that Steve Jobs was not on a fruit diet nor a raw vegan diet for the later part of his adult life. Steve Jobs was exposed to much stress and chemicals in his life. I think going back to a fruit diet possibly could have helped Steve Jobs to heal."
The Woodstock Fruit Festival strives to address the many advantages of eating fruit-based; embracing health, ethical, as well as environmental benefits. The festival strongly believes that one of the best things you can do for your own health and the health of the Planet is to eat more fruit!
Some of the speakers for the 2013 festival include well known raw vegan athletes, and health pioneers. Best-selling health author Dr. Douglas N. Graham; champion trail runner Tim Van Orden; founders of one of the popular raw food websites 30BananasADay.com; YouTube favorite Dan 'The Man' McDonald, Tony Wright; author in the evolutionary scientific community; internationally-published fruitarian author Anne Osborne; and expert on children's diet and nutrition Karen Ranzi.
Festival speaker and 30+ year veteran fruitarian gymnast Robert Lockhart, says
"We live in a world where the human form is taking on ever-increasing dimensions; and obesity, heart disease and cancer rates are growing at alarming rates, the need for a healthy, ethical, and sustainable diet has never been higher. If you want to die young, but as late as possible, embrace the Fruitarian Lifestyle!"