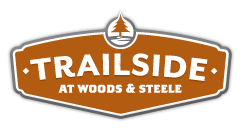 We wanted our past clients, friends, associates, anyone really… to have a way to reach out with the awesome message of what a great place Upper Kittitas County is. Sometimes all it takes is that nudge from a friend
Cle Elum, WA (PRWEB) January 31, 2013
Trailside at Woods & Steele, a new mountain cabin community on the eastern slopes of the Cascade Mountains announced earlier this month that they are offering a cash referral program.
"We wanted our past clients, friends, associates, anyone really… to have a way to reach out with the awesome message of what a great place Upper Kittitas County is. Sometimes all it takes is that nudge from a friend" says Sean Northrop Owner and Founder of Sapphire Skies Land Company, developer of Trailside at Woods & Steele.
The cash referral program is simple process. If a new client purchases a Trailside Home because of a referral a $1,000 will be granted or $500 for a Trailside land or Sapphire Skies land referral purchase. Once the referral has agreed to purchase a home or parcel from Sapphire Skies or Trailside Homes, the referrer will be notified of the anticipated closing date and upon closing and will receive the $500 or $1,000 referral fee.
Featuring 65 open concept mountain cabins on 135 acres, the Trailside community is located near the small town of Cle Elum and mountain resort of Suncadia. The private gated community was built around the idea of outdoor recreation and the homes reflect refined northwest mountain elegance. The property has community trails throughout the 54 acres of dedicated green space that is open to all community members as well as trails linking each of the open concept mountain cabins to the 40,000 acre wooded Manastash recreational area located directly adjacent to the community.
To find out more about this program contact Sapphire Skies Land Company or the Trailside at Woods & Steele Community.
About Sapphire Skies Land Company:
Sapphire Skies excels at providing high-quality, affordable residential land and homes that celebrate connections to the outdoors, small-town values and four-season country lifestyles. Founded in 2000 in downtown Cle Elum, Sapphire Skies is comprised of a team of individuals committed to the Upper Kittitas County community. To learn more about current projects, including homes and the community at Trailside at Woods & Steele, please visit http://www.TrailsideHomes.com. For more information on Sapphire Skies please visit http://www.SapphireSkies.net.