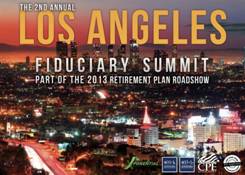 Increased focus on holistic plan management and creating an optimal retirement plan experience for 401(k) and 403(b) plan sponsors & participants
Los Angeles, CA (PRWEB) January 30, 2013
"Our first annual Los Angeles Fiduciary Summit in 2012 focused primarily on fee disclosure, fiduciary requirements, and plan sponsor guidance," said Summit host and Managing Director of 401(k) Advisors & 403(b) Advisors- Los Angeles, John Spach. "This year we are excited to build on those themes with an increased focus on holistic plan management and creating an optimal retirement plan experience for 401(k) and 403(b) plan sponsors & participants."
Managing director John Spach hosts the Summit. In addition to being an industry leader, Spach was recognized by Plan Sponsor magazine in 2011 as one of the five finalists for Advisor of the Year. He is one of the founding lecturers of The Retirement Advisor University at the Anderson School at UCLA and was voted by his peers as one of the "Top 40 Advisors" in the country in 2009, 2010, and 2011.
The summit will cover everything a fiduciary needs to know for 2013 including: evaluating plan performance, maximizing vendor negotiation and benchmarking investment advisor services and fees. Additionally, the Summit features a professional advisor panel including David Donaldson, President of ERISA SMART and former Senior Department of Labor investigator and Meredith Sesser, Attorney at Brucker & Mora, APC.
Event Information
The Summit will be held at The Luxe Sunset Boulevard Hotel on February 26, 2013 from 11 a.m. to 2 p.m. The conference is open to the first 50 plan sponsors and the $150 registration fee will be waived on a limited basis. The 2013 Los AngelesFiduciary Summit is approved for 3 CPE/CPA Credits and 2.5 HRCI/SPHR/ PHR/GPHR General Credits. For more information about the conference or to RSVP, please contact Jon Freye at jfreye(at)xgrowthsolutions(dot)com or at (619) 795-3920.
About 401(k) Advisors
401(k) Advisors provides independent retirement plan consulting services to major and mid-sized private and institutional plan sponsors, and currently oversees over $14 billion in assets under advisement. The firm is recognized for best practices in retirement planning, investment due diligence, vendor service and fee benchmarking, compliance processes, and education for sponsors and participants. For more information, log onto http://www.401kadvisors.com.
401(k) Advisors: 120 Vantis, Suite 400, Aliso Viejo, CA 92656 949.460.9898 / 800.959.0071 / http://www.401kadvisors.com
Securities offered through Financial Telesis, Inc. Investment Advisory Services offered through 401(k) Advisors. Financial Telesis, Inc. is not an affiliate of 401(k) Advisors.
About Xponential Growth Solutions
Xponential Growth Solutions (http://www.xgrowthsolutions.com) unites 401(k), 403(b), and Retirement Plan Sponsors with elite resources and exclusive connections. XGS training and educational summit opportunities present a forum to empower sponsors to help America reach their retirement goals one retirement plan at a time.
Xponential Growth Solutions
110 West C St Suite 2001
San Diego, CA 92101
619.795.3920