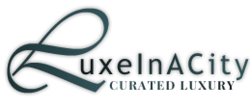 A curated list of Asian Cities to explore in 2013
MONTREAL, QUEBEC (PRWEB) January 31, 2013
Travelers to Asia have long been inspired by the continent's luxurious hotels, fine dining establishment, and cultural wonders. Offering endless opportunities for exploration for the most discerning luxury traveler, choosing a single destination can sometimes be daunting.
Here is LuxeInACity curated list of top Asian cities to explore in 2013:
1. Hong Kong, China: While it can appear overwhelming at first because of how packed it is, visitors will find something at every turn. There are fantastic shopping opportunities and culinary treats everywhere. Be sure to visit one of the many markets of Hong Kong such as the famous Ladies' Market. Take a ride on the tram on the outskirts of the city to see the entire landscape of the city, including the jaw-dropping skyscrapers.
2. Panglao, Philippines: For dive enthusiasts, Panglao is an ideal destination. It offers some of the Philippines finest beaches such as Alona Beach. While in Panglao, explore the Hinagdanan cave or the surrounding smaller islands, which are easy to get to for a quick day trip.
3. Sokcho, South Korea: Sokcho is the largest city near Seoraksan National Park, one of the most beautiful parks in all of Korea. That is the main attraction when visiting Sokcho. However, the city has some treasures of its own including a beach, natural hot springs and the nearby Yeongangho lake. Adventure travelers will love this city and the many things that it offers.
4. Taipei, Taiwan: If you're looking for great food, an exciting nightlife and great art, look no further than Taipei. This Asian city has been under the radar for a few years, which is surprising because it offers so much. Depending on when you visit you might be able to catch one of the many festivals including The Lantern Festival, an electric display of lanterns and lasers, which runs for several days. Another must-do is the night market that can be found in each district. It's a place to get great food and socialize in an authentic Taiwanese way.
5. Goa, India: Goa was formerly a Portuguese colony and the influences can still be found in this seaside Indian town. It's a city that was only visited by hippies, but now many more tourists are discovering its charms. Spend your days exploring the many beaches, wandering through dozens of museums and art galleries, and enjoying the wildlife sanctuaries.
About LuxeInACity.com
Launched in 2011 and with corporate headquarters in Montreal, Canada and Gothenburg, Sweden, LuxeInACity is a curated guide to luxury cities from around the world. Providing priceless information to affluent consumers and travelers worldwide, each luxury city guides features a curated list of premium waiting to service the bespoke needs of these high-network individuals. The founders of LuxeInACity.com have traveled to over 70 countries.