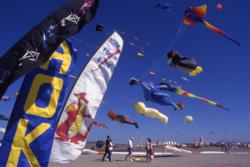 Festivals are a great way to enhance a visit to the beach, learn, be entertained and interact with local residents.
Seaview, WA (PRWEB) January 31, 2013
With one festival or more on most weekends of the year, visitors to the Long Beach Peninsula have extra reason to plan now for 2013 getaways to what's been voted Washington's favorite beach and one of the best beaches in the U.S. Over 70 events are listed on the Long Beach Peninsula Visitors Bureau's official event list, ranging in themes from music and food, to triathlons and Olympic games for dogs.
"As if 26 miles of open, public beach were not enough, our communities welcome visitors with new events and renewed enthusiasm for longtime festivals," remarked Andi Day, executive director, Long Beach Peninsula Visitors Bureau. "These many and varied festivals are a great way to enhance a visit to the beach, learn, be entertained and interact with local residents."
Here's a snapshot of highlighted and major events throughout 2013:
Black Lake Fishing Derby, April 27, Ilwaco. The derby marks the opening day of trout season with a kids-only fishing event, complete with prizes. http://www.ilwaco-wa.gov
Blessing of the Fleet and Loyalty Days celebrations, May 4 and 5, Port of Ilwaco and Long Beach. http://www.loyaltydayslongbeach.com
Northwest Garlic Festival, June 15 and 16, Wilson Field/Ocean Park, promises to surprise and delight with novel uses for garlic, as well as longtime favorites – garlic ice cream and chocolate-covered garlic. http://www.opwa.com
Beach to Chowder 5K Run/Walk and 10K Run, June 22, 9 to 11:30AM, Bolstad Ave. beach approach/Long Beach. Notable for its coastal course, the event takes place on hard-pack sand with cooling breezes and spectacular views of the Pacific Ocean.
Doggie Olympic Games, June 28, 4 to 7PM, June 29, 1 to 4PM, Bolstad Ave. beach approach/Long Beach. This lively event gives socialized pooches and owners, a chance to compete for fun and medals. Favorite events include Dunking for (Hot) Dogs and Nadia Comaneci Agility.
Sandsations (July 13, 9:30AM to 3:30PM, Bolstad Ave. beach approach/Long Beach) and City Sandsations (July 10 through 14, Veterans Field/Long Beach). Mountains of sand in town and at the beach are transformed into fantastic displays. Learn sand-sculpting from pros and/or enter for fun or prizes.
Blues and Seafood, August 16 and 17, Port of Ilwaco, and Jazz & Oysters, August 18, Ocean Park. These popular, back-to-back music and food festivals provide a weekend of lively entertainment.
The Washington State International Kite Festival, August 19 through 25, Bolstad Ave. beach approach/Long Beach. The biggest and most colorful event of the year, this ever-popular festival promises whimsical, artistic and dramatic displays, as well as playful and awe-inspiring competitions.
Cape Disappointment Sprint Triathlon and Duathlon, September 21, 9AM until noon, Ilwaco. Building on a successful first year, this challenging event includes a swim in Black Lake, ride on Discovery Trail and run on the Black Lake Trail system.
Water Music Concerts, October 11 through 13, Long Beach Peninsula. An ever-amazing series of top-notch live musical performances offered in intimate and mid-size venues, including an historic church. http://www.watermusicfestival.com
Cranberrian Fair, October 12 and 13, Ilwaco and Long Beach. An opportunity to share in the heritage of the century-old cranberry harvest on the Long Beach Peninsula, during the peak of harvest season.
'Ocian in View' Cultural Weekend, November 8 and 9, Ilwaco. A legacy of the Lewis and Clark Bicentennial Commemoration, 'Ocian in View' presents programs and tours that illuminate history at the mouth of the Columbia River.
Among the other events on the Long Beach Peninsula are several Fourth of July celebrations; the Cape Disappointment State Park Waikiki Concert Series; the downtown Long Beach, family friendly Summerfest series; a food-lovers Wild Mushroom Celebration (Oct-Nov); inviting farmers markets; art walks, exhibits, shows and tours; organized beach clean ups; a host of holiday events; and more.
With its mix of sensational restaurants, local seafood, ocean view lodging, unique museums and attractions, lighthouses, fine art galleries, meandering trails, birding spots, and, above all, its long, wide, windswept beach, the Long Beach Peninsula continues to be one of the Northwest's most enjoyable and refreshing getaway destinations. For event and visitor information, please call the Long Beach Peninsula Visitors Bureau at 800-451-2542 or access http://www.funbeach.com.