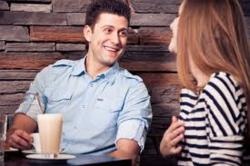 San Diego, CA (PRWEB) January 31, 2013
Dream Buzz, the blog for social dating site iDreamofU (IDOU), offers dating insights to help singles find the person of their dreams. The most recent blog,See Someone You Want to Meet? Now What?, shares 10 considerations one needs to make when approaching and conversing and then 6 signs of positive reception.
Once a single person sees a person he or she would like to meet, the act of meeting can present a challenge. Recommendations on how one approaches and then talks to a romantic interest are presented.
When approaching a person of interest, it is more about how the individual approaching appears physically. Body language will demonstrate confidence. Posture where the head is up and a person is standing tall with shoulders back sets the individual approaching up for positive interaction.
After the approach, the individual with interest is ready to converse. Again, there are considerations to make for a positive outcome. Humor helps to keep communications light and fun and creates a sense of connection. People are often attracted to happy, funny individuals. When someone enters a room laughing, others are naturally drawn to that person and this can be helpful in creating a bond.
Now that the approach and conversation have occurred, is the interest reciprocated? If the person who has been approached isn't paying attention to anyone or anything else, there's a connection. Metaphorically, the person approaching has become the only one in the room.
When single people claim difficulty in approaching new people, IDOU's recommendation is to more carefully plan the approach and conversation. For ideas on how to approach, converse and recognize interest, read the entire blog See Someone You Want to Meet? Now What?
About IDOU
Online social dating site iDreamofU (IDOU) members can visually create a near-lifelike image of the person they would like to meet (Dream image). The IDOU software then matches the Dream image, along with responses to the traditional demographic and relationship questions, to members on the site.
IDOU is a newer entrant into the free online dating market; a market that is estimated to be in excess of $1 billion. The core differentiating factor between IDOU and all other dating sites is that an IDOU site member builds a visual version of the person he or she would like to meet by selecting an ethnicity, a preferred facial structure along with eye, nose, mouth and hair shapes. Since visual attributes are only part of a member's created profile, responses to the more standard demographic and relationship questions also play a significant role in the matching algorithm.
There is also a non-dating component to the site. Anyone visiting the site can create a person's image just to experience the site.
Launched in April, 2012, IDOU provides an innovative, game-like, and first-in class approach to online social dating for 18-50 year olds in the United States. All services on IDOU are currently free. IDOU will focus on the use of its website and mobile application, as well as other planned applications, to create an online and social dating market niche.