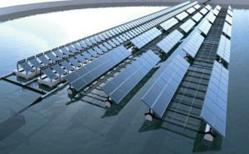 Los Angeles, CA (PRWEB) January 30, 2013
Topsun Co., Ltd. announced that they are developing a 100MW floating PV system project in South Korea. A 100kW test prototype project is scheduled for 2013 which will expand in scale to 100MW through 2014 and 2015. Topsun is well-known for its 96-cell PVs and over 400Wp per panel in the world wide. There is only one company in the world that mass manufactures a 400Wp panel. A 400Wp PV can save 3% in EPC installation costs by reducing by 10% rackings, labor times and electric wires.
For this reason, the government of the Korean province Jeollanam-do awarded their seashore areas to Topsun and its project partner, the KOSEP utility company, to develop the 100MW water floating PV system. KOSEP (kosep.co.kr) is one of the major utility companies in South Korea. A floating PV system can generate 10% higher output than a land-based PV system because seawater reflects sunlight and helps increase generation, and moreover, its cool temperature helps cool down the solar cell temperature.
This seashore area has very stable conditions in terms of wind and sea waves, like on a lake.
Chang Joe, the marketing manager in Topsun, is expecting that this water floating PV system will affect other PV installation sectors. "Lakes and shallow seashore areas could be good candidates for future developments, and we will help customers with technology and EPC know-how. If the solar EPC companies adopt our installation know-how, they can easily install the water floating PV system with economic cost. It will benefit investors with 10% more return."
Shields Thomas Fair has more than 20 years of experience in electronics and solar system design. Through his company, Global H2 Solar, Inc., he is a Topsun representative for North and South America. "I recommend and have exclusively selected Topsun solar modules as my choice to use in engineering and solar system design. From extensive research of solar modules for both grid and off-grid applications, I find that Topsun offers the best overall choice that fits everything from small, off-grid systems, residential and commercial, as well as for the largest utility level systems. Topsun should be the clear choice for the most discerning solar client. Topsun is rated Bankable Tier 1 and is manufactured in a nearly fully automated production facility."
Email: shieldsfair (at) yahoo (at) com
Phone: 602.206.8060