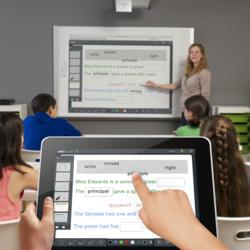 San Carlos, CA (PRWEB) January 30, 2013
Luidia Inc. the award-winning leader in portable interactive products that enable educators and students to create, capture, share and interact with digital content on desktop and mobile devices, will be demonstrating its dynamic collection of new classroom solutions at BETT SHOW 2013, the world's largest technology in education event, held this year at the ExCel venue in London, January 30 through February 2, 2013.
The demonstrations at Stand B60 will include a preview of the soon-to-be-released eBeam Connect software showing how it helps teachers increase student engagement via any web-enabled device, including Android® and iOS® tablets. With eBeam Connect, teachers and students share an online content space, syncing classroom devices in a collaborative learning environment in the cloud where everything is saved and accessible from any device – effectively bringing every student to the front of the class.
Luidia also will demonstrate an updated Capture Pack, an add-on for eBeam Edge and Engage that captures anything written or drawn on a regular whiteboard with dry-erase markers. The new Capture Pack features a more ergonomic marker sleeve design that yields more accurate results.
In addition, visitors to the booth will be able to try a new version of eBeam Livewire for instant use of eBeam software without installing it on a computer, as well as new Education Suite software for Linux.
About Luidia
Luidia Inc. is the creator of interactive eBeam® technology that helps teachers and students to interact, share, create, learn, and educate in this interconnected world. The company's products are utilized by organizations of all sizes, with hundreds of thousands of users across multiple industries and geographies. Luidia also partners with industry leaders such as Chief MFG, Hitachi, NEC and Sony, that incorporate eBeam® technology in their latest products.