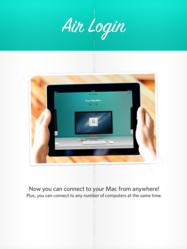 Air Login acts as a zip-line between the iOS device in your hand and your Mac.
Portland, OR (PRWEB) January 30, 2013
It's a month into 2013. New Year's resolutions abound to amp up productivity and work smarter this year. Avatron Software's newest remote login app, Air Login, is so accommodating and fast, it feels like cheating because it enables work with any file or app residing on a Mac from an iOS device — anytime and anywhere.
Air Login acts as a zip-line between the iOS device in the hand and a Mac at the desk. In seconds, a work- or home-based Mac — and all its apps and files — are displayed right there on in the hand. You can quickly edit files — even Photoshop or Flash — on the iPad, iPhone or iPod touch, using familiar Mac applications as if they were right there.
Forget to update a client logo on the PowerPoint while waiting in their lobby to present? Air Login allows access to the file from a Mac at home or office and in order to update the presentation from an iPad. Need to edit the brochure in Photoshop before going to print? Air Login brings the Photoshop app to the mobile iOS.
Air Login instantaneously loads the Mac menu toolbar on an iOS device. As soon as it uploads, there is complete access to the Mac screen windows making the iOS device as fully functional as a Mac.
"How many times have you been traveling or mobile and desperately needed to get a critical file back at your desk? Or felt frustrated that all the apps that work on your Mac just don't function on your mobile? Air Login is our answer to accessing literally any file or app back at your Mac and enabling full functionality right there on their iPad, iPhone, or iPod touch," says Dave Howell, CEO, Avatron Software. "And it's built to be simple, fast, familiar, and secure. You don't need to be a geek to use it."
Air Login joins Avatron's showcase of productivity apps including their highly-acclaimed mobile app, Air Display, which extends desktop real estate by enabling users to use an iOS device, Android smartphone or old PC as an additional monitor. The second monitor can be used for displaying full screen documents, a control surface for graphic design and music, a display for auxiliary development tools, and to get more mileage out of depreciated computers.
Air Login and Air Display join Avatron's other popular mobile apps, Air Sharing, for viewing files and the cloud on-the-fly, and Print Sharing, for wirelessly printing files directly from an iOS mobile device. All Avatron mobile apps reflect simplicity, elegance and seamless functionality, characteristics leveraged by Howell's six-and-a-half years working at Apple. Avatron's appetite for ingenuity and in-depth knowledge of iOS and the Mac OS X have created productivity apps that enable you to keep that New Year's resolution.
Check out Avatron CEO Dave Howell's video introduction to the highly-anticipated Air Login (http://vimeo.com/56724037). Air Login is available now in the App Store as a free download. You can connect to any computers on the same local network, absolutely free. If you want to connect to remote computers, you can upgrade to an "Air Login Anywhere" subscription.
For more information about Avatron's award-winning family of productivity apps for Android, iPhone, iPod touch, iPad, Mac and Windows users, visit http://www.avatron.com.
About Avatron Software
Avatron® Software is a leading developer of productivity-enhancing mobile apps, including Air Display, Air Sharing, Air Login, Print Sharing, and Air Dictate. Avatron's Air Sharing file-sharing app was downloaded by more than 1 million users in its first two weeks and raised the bar for mobile app design and quality. The company's Air Display app turns an iPad into a wireless computer monitor with a touchscreen. Avatron was founded in April 2008 by Dave Howell, a former Apple software engineering manager, and a team of veteran Mac OS X programmers. The company is based in Portland, Oregon. All trademarks and registered trademarks are the property of their respective owners.