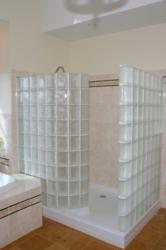 Since silicone has become a popular way to join two or more glass blocks together, the nominal sizes are only appropriate to use when a mortar application is required
Morris, Illinois (PRWEB) January 30, 2013
When dealing with wood, glass or even cabinetry; dimensions and sizing tolerances are usually a guideline for what is acceptable and what is not. When the products are too much above tolerance, then there is wasted time involved with getting the right size. The American Made Glass Block is manufactured usually within one-sixteenth of an inch and is a favorite among architects for their reliability, durability and functionality. Occasionally, projects come along and require exact precision and this is when size matters. A slight miscalculation can mean a lot of wasted time and money. "it is important for contracting professionals to know the glass block sizes and exact glass block dimensions", said Ray Tuminello, president of Quality Glass Block and Window Co. "Product dimensions can understandably get lost within a contractors head with all the responsibilities they deal with on a daily basis and we want these professionals to know that they can turn to us when this happens."
Nominal glass block sizes are not the exact size and the obvious question would be; "why would the manufacture assign a size that wasn't exact"? This will be become clear in a minute. Glass blocks were meant to have a mortar joint in between the glass blocks because having two glass blocks together will ultimately lead to breakage. These mortar joints were meant to be one-quarter of an inch wide. So when a glass block size is referred to as "nominal size", it makes it very easy to calculate the glass block dimensions along a proposed glass block wall, window or shower enclosure. For instance, an area to be filled with a glass block window is brick to brick; thirty-two inches by thirty-two inches. With a nominal size of eight inches by eight inches, the contractor can quickly calculate four rows tall and four rows wide equals sixteen glass blocks needed to fill the area with all eight inch by eight inch (nominal size) glass blocks. But actually, if the contractor were to use silicone instead of the mortar, the mortar joints would not exist and the actual size of the window would be thirty-one by thirty-one.
"Since silicone has become a popular way to join two or more glass blocks together, the nominal sizes are only appropriate to use when a mortar application is required; Silicone applications require a little more math to be involved in the planning process," said Tuminello. "When calculating for a silicone glass block project, knowing that the exact size of any glass block is one-quarter of an inch less than the nominal size provided by the manufacturer," shared Tuminello.
Using silicone to join glass blocks together gives the area a cleaner look and makes installation easier. The silicone is a specialized glass block silicone available at Quality Glass Block and Window Co. along with professional design assistance for almost every glass block project imaginable. A better understanding of the glass block sizes can be found at Quality Glass Block and Window Companies website or by calling them directly.
Quality Glass Block and Window Company (http://www.qualityglassblock.com) is a leading provider of glass blocks used for windows, shower enclosures and vents. In addition to wholesale glass blocks, Quality Glass Block and Window Company provides installation services or guidance for do-it-yourself builders and homeowners.