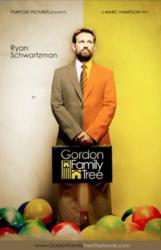 ...is slated for a red carpet premiere on May 22nd at The Razorback Malco Theater in Fayetteville, Arkansas.
Fresno, CA (PRWEB) January 31, 2013
January 31, 2013. "Gordon Family Tree," an independent feature-length film with a quirky coming-of-age plotline, is being readied for the 2013 festival circuit. The film, which features performances by Corbin Bernsen of "L.A. Law" and "Major League" fame, as well as "Home Improvement" star Richard Karn, is notable due to its avoidance of the typical, conniving "bad guys" element and its focus instead on the internal struggle of its main character as he takes a road trip to self- discovery.
The production included members of Fresno-based media company Blare Media in several key crew positions, proving that the Central Valley is a viable source for experienced, professional film crews. The staff from Blare that worked on "Gordon Family Tree" included: Justin McAleece, who served as a camera operator; Ian McAleece, who worked as a gaffer; and Nicole McAleece, who was the shoot's script supervisor. McAleece used Blare's high-end Epic Camera system and Canon L Prime and Zoom lenses on the shoot.
According to co-executive producer and supporting actress Jennica Schwartzman, "Blare is the most supportive and understanding crew. Justin, Ian, and Nicole were irreplaceable. They were on board very early in the process, gave a lot of artistic input, were on our side through all the ups and downs...They are a very hard-working, 'early morning-to-late night' group of talented folks. We really couldn't have done this without their help...they were ready to jump on board to help in any way they can and are true team players. I love them with all my heart and can't wait to work with them again!"
"Gordon Family Tree" was shot in Northwest Arkansas and helmed by indie film and web series director Marc Hampson with cinematography by Paul Olson, both of Brotherhood Pictures. It tells the story of Freemont Gordon (played by writer and co-executive producer Ryan Schwartzman), who discovers that "embracing who you are is what matters" as he leaves his job at a large architectural firm and drives across the country constructing tree houses for families in need.
One of the focuses of the producers was to contribute to their communities. Production was supported by generous donations from local businesses in Arkansas, who contributed nearly $30,000 in goods and services to the project. In turn, the producers tried to spend nearly every penny of the film's budget in the local community and promoted their sponsors through social media. They also set up a "spouse fund" to enable cast and crew to fly out their loved ones to spend time with them on set.
The film is currently undergoing the submission process for several notable film festivals, and is slated for a red carpet premiere on May 22nd at The Razorback Malco Theater in Fayetteville, Arkansas. The producers will seek distribution options once the film's run on the festival circuit is complete.
In a new era of technology and mobile film production capabilities, Gordon Family Tree is a perfect example of what can be done by a dedicated crew, that can come from almost anywhere, to produce a film almost anywhere, and still deliver high caliber results.
Blare Media produces Hollywood-quality video projects including films, commercials, corporate videos, music videos, and infomercials at affordable rates through the use of efficient digital capture and post-processing. Based in Fresno, California, the firm also has satellites in Los Angeles, Las Vegas, San Francisco, Walnut Creek, San Jose, Sacramento, Seattle and Dallas.
Companies interested in learning more about Blare Media's film production services should visit http://www.BlareMedia.net or call Project Manager Blake Barnett at 1-866-337-8331.