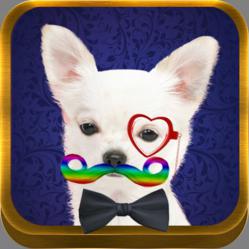 Belfast, ME (PRWEB) January 30, 2013
Cat Game Apps' latest release, Mustache Me, is the new gold standard of mustache mobile apps. It offers over 200 items to add to photos including a wide variety of mustache styles in a broad selection of colors that even includes rainbow colored. There are also funny glasses, hats, banners and text bubbles that can be added.
Mustache Me is easy to use for beginners and includes advanced features for the more adventurous. The first step is to take a photo with a smartphone or tablet or select a photo in the device's memory. The users then choose the items they want to add and adjust the size, position and orientation of the items using their fingers.
There are easy to add banners that say things like "I mustache you…will you be my Valentine?" Users can also add custom text using the text bubble to and there's also a drawing tool to draw arrows, add a few words or some other accent.
When the mustached image is complete, owners have several options like saving it to their camera roll, emailing it to a friend, sharing it on Facebook or Instagram, posting it as a meme to Pinterest or using it as an avatar or profile photo. Users can also upload the photo to Shutterfly to make gifts, cards, invitations or a funny calendar.
"We wanted to raise the bar on mustache apps" says developer Tim Wilson. "Mustache Me is both easy to use and the most comprehensive mustache app on the market. But mostly, it is just plain fun."
Mustache Me is currently available on iTunes and will be released on Android shortly.