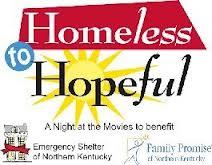 A Night at the Movies to benefit Emergency Shelter of Northern Kentucky and Family Promise of Northern Kentucky
Northern Kentucky (PRWEB) January 30, 2013
Today, Family Promise and the Emergency Shelter, both located in Northern Kentucky, announced a fundraiser to support their agencies which help to bring individuals and families from homelessness to independence.
Those in attendance will have the privilege to watch an award-winning documentary about homelessness titled "Homeless: The Motel Kids of Orange County." In addition, individuals from the Northern Kentucky area will be present to share their stories of how each agency brought them hope and shelter and assisted them in obtaining housing. Former Kentucky Congressman Geoff Davis will be the emcee for the evening.
The event will take place on Friday, February 22, 2013 at the Notre Dame Academy Theatre in Park Hills, KY from 6:00p.m. until 9:00p.m. Ticket prices are $15.00 for adults and $5.00 for students and can be purchased by calling Family Promise at (859)431-6840 or by emailing janet@familypromisenky.org . The event will also feature a basket raffle and silent auction items for those in attendance. All proceeds help benefit Family Promise of Northern Kentucky and the Emergency Shelter of Northern Kentucky.
Family Promise of Northern Kentucky helps homeless families by providing shelter, meals, and support services. It is a "faith based collaborative that empowers Northern Kentucky children and their families experiencing temporary homelessness to attain sustainable independence."
The Emergency Shelter of Northern Kentucky was established in 2008 and is the only cold weather shelter in the Northern Kentucky region. They also shelter individuals in the summer months and assist with their goals towards jobs and housing. The agency believes that shelter is a necessity for human beings and feels that those who are homeless will not recover unless this most basic need is met.