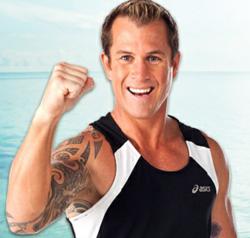 The Fast Track Challenge is like having me as your personal trainer!
(PRWEB) January 31, 2013
Round 8 of Shannan Ponton's Weight Loss Challenge will be launching on Monday 4 February 2013. The celebrity trainer from the hit TV Show, The Biggest Loser, is offering an online program promising weight loss and improved levels of fitness.
Shannan Ponton's 8 week Fast Track Challenge incorporates his 20 years of experience in personal training, with his special brand of energy to deliver a weight loss program designed for men and women of all ages and body shapes.
Kicking off on Monday 4 February 2013 and costing only $149, members of the 8 week Challenge could lose up to 10 kilos and will receive:

Delicious daily recipes and Shannan's favourite meals to keep nutrition in check
Step-by-step workout plans for every level, from beginner to advanced
Daily online feedback and motivation from Shannan
Weekly video meetings where Shannan will offer tips and answer questions in real time
Access to The Biggest Loser Club's scientifically proven weight loss tools
In addition to the program and tools, Shannan will keep motivation levels up throughout the Challenge with:
Leaderboards for members to challenge one another - make friends and have fun along the way
Prizes to celebrate weight loss and fitness achievements
Surprise workouts and maybe even the chance to workout with Shannan
After many years of requests, Shannan has found a way to be personal trainer to thousands of Australians. "For years people have said, 'if I had you as my trainer I could lose weight too.' So I decided to use my expertise to create a safe, fun way to lose weight fast, as well as be accessible to everyone.
"The Fast Track Challenge is like having me as your own personal trainer but it's in the convenience of your own home and at an affordable price," says Shannan.
Adrian Duncan, who joined one of Shannan's 8 Week Challenges, lost 17kg in 8 weeks, bringing him down to a slim 72kg. "Initially I joined because I thought, 'It's only 8 weeks, might as well give it a go.' I had a really successful first week with a good loss and that made it all seem possible. I then broke it down to 1 week at a time," he said.
"The meals were tasty and simple to make and having my training sessions set out was also a big plus. Shannan's weekly blogs also helped me with my mindset to stay focused and motivated. I have never been fitter, leaner or healthier. I feel good in my skin. I wear clothes I would never have worn or even tried before – it has made a huge difference to my lifestyle."
Visit the Shannan Challenge Website to register for Shannan's 8 Week Fast Track Challenge. Registrations close midnight, 4 February and are open to Australian residents only.