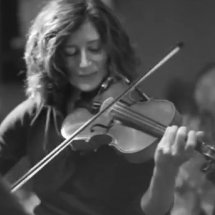 Santa Fe, New Mexico (PRWEB) January 29, 2013
Santa Fe, NM, brew pub dining and music hotspot Second Street Brewery has been part of the dining and night time entertainment landscape here in the city since the company's opening in 1986. 2012 was a banner year with the company bringing in entertainment for the enjoyment of guests several nights a week. Saturday night, Feb. 15, 2013, is all set with Swing Soeil hitting the stage at the Second Street Brewery from 6 p.m. to 9 p.m. This is a featured listing on SantaFe.com, Santa Fe's premier on-line visitor guide.
Swing Soleil plays the music of Django Reinhardt and Stephane Grappelli and swing music composed from the 1930s to 1950s. Swing Soleil consists of:

Gemma DeRagon, violin
Patrick Longmire, guitar
Charlie Freeman, guitar
Zeke Severson, double bass
The band performs compositions resembling the Hot Club of France and more recent jazz manouche ensembles performing in Europe. The music performed by Swing Soleil is rich and dynamic and is perfect for an evening of incredible listening enjoyment, not to mention the douce ambiance at the Second Street Brewery.
About SantaFe.com:
SantaFe.com provides locals and visitors to Santa Fe alike the most current interactive platform for events, music, arts, business, dining and lifestyle. SantaFe.com is a division of Hutton Broadcasting, located at 2502 C. Camino Entrada, Santa Fe, NM 87507
Contact Information:
Scott Hutton
SantaFe.com / Hutton Broadcasting
http://www.santafe.com
(505) 471-1067 (Media inquiries only, please)
About Second Street Brewery:
Second Street Brewery has been open since December 6, 1996. We brew beer with the bright rich complex and satisfying flavors that you can only get from a fresh handcrafted product. We use a 10 barrel (30 gallon) system. 80% of our hops and barley come from the Pacific Northwest and the other 20% from Germany and England. Thanks to you and all the many loyal patrons we have sold approximately 3,120,800 pints of beer since opening! That equals over 50 pints for each person living in Santa Fe.
Contact Information:
Second Street Brewery @ Second Street
1814 Seconds Street
(505) 982-3030