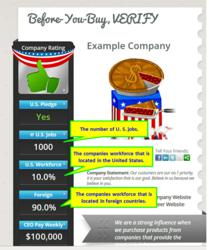 As the middle class gets poorer, the GDP shrinks and consumers become more pessimistic.
Hawthorne, CA (PRWEB) January 31, 2013
The Commerce Department reported yesterday the nation's gross domestic product shrank for the first time in 3 1/2 years during the fourth quarter of 2012, declining at an annual rate of 0.1% between October and December. Also this week, the Conference Board said its gauge of consumer confidence dropped to 58.6 in January, the lowest level since November 2011, which erased all of the gains made through 2012. This disturbing news has caught the attention of high school students belonging to an organization called SaveOurWorkforce which monitors the economy and the number of jobs in America. These students say the main cause of poor GDP growth and consumer confidence is the lack of good paying jobs in the U.S. No worries, these kids at SaveOurWorkforce.org say they have simple solution.
Says Austin Mazzolini, student President of SaveOurWorkforce: "Using simple math on labor statistics, one can see that family incomes for the middle class and poor has been decreasing in the U.S. for the last decade." Another student, Jared Pangelinan from Loyola High School states, "As the middle class gets poorer, the GDP shrinks and consumers become more pessimistic." Research data supports what these youths are saying. The Economic Policy Institute (EPI)- a nonpartisan, nonprofit Washington, D.C. think tank-reported America's low and middle income families have suffered a lost decade. EPI key findings are - Despite an increase in productivity of more than 22 percent by 2010, typical wage earners roughly made the same amount per hour as in 2000. Median family income was 6 percent lower in 2010 than in 2000.
So what is the simple solution to fix GDP Growth and Consumer Confidence these young people are proposing? "We have to solve the root cause of the problem; the middle class economic engine cannot be strong unless there are a lot of good paying jobs available" explained Max Forrester, a student at California Academy of Mathematics and Science. "The straightforward solution is more jobs are needed." To solve this, these kids created a website, called SaveOurWorkforce.org, to increase the number of middle class jobs. Their free website tool "Before-You-Buy, Verify" shows the number of U.S. jobs a company provides, so consumers can easily purchase products from businesses that are supporting the economy. Their database gives each company a rating by tracking the number of jobs a company offers in the United States and foreign countries to determine a U.S. workforce percentage.
Prior to making a purchasing decision, a consumer can compare the U.S. workforce size of multiple companies and direct their purchase to the business that is providing the most U.S. jobs to American families. "Using this tool strongly encourages companies to keep jobs here in America", says Matthew Galvan, attending El Segundo High School. Also, students research unemployment and provide a report card on the health of the U.S. workforce. This report card is a way for members to see the condition of the U.S. workforce and how well they are doing.
"Together we can rebuild the U.S. workforce and create a brighter future for us all," explained Austin. "All we need is your membership to show companies we care about how many U.S. jobs they provide." People who are interested in becoming members can sign up at SaveOurWorkforce.org.
About SaveOurWorkforce
SaveOurWorkforce is a nonprofit organization with the mission to save and rebuild the American workforce. Founded in 2012 by high school and college students, the organization encourages the involvement of students, individuals, and companies throughout the country at their website SaveOurWorkforce.org. Students (13 years and older) are asked to join and track the company workforce sizes in their area. Individuals (the 99%) are asked to become members and use the free tool "Before-You-Buy, Verify" which empowers consumers to direct their purchases to companies that support the U.S. Workforce the most. Companies are also asked to become members and partner with the youth to help keep jobs in America at SaveOurWorkforce.org.