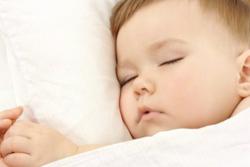 When parents eliminate sleep props, keep to a good schedule for naps and bedtime, avoiding overtiredness, and are consistent with the routine and their expectations, sleep patterns will regulate.
Chicago, IL (PRWEB) January 30, 2013
Researchers from the University of Sydney published an article this week in the Journal of Nature and Science of Sleep concluding that the amount of sleep adults get each night naturally waxes and wanes in a cyclic pattern in spite of timing (getting to bed and waking), lifestyle and outside influences. Kim Schaf, M.A.T., Founder and President of Sleep Training Solutions, agrees with this study for the adult population but believes that sleep quantity and sleep quality for babies and toddlers can also depend on a variety of factors, including their independent sleep skills.
In this study, researchers examined the sleep patterns of a group of 13 healthy men ages 18-35, who routinely slept less than 7-8 hours at night, over a 2 week period. Each participant wore an actigraph on his non-dominant arm to record his sleep patterns.
Researchers found that there are constant changes in the duration of sleep and the body naturally adjusts the duration based on need, exhibiting cyclic patterns ranging from 2-18 days. Also participants with a higher BMI fell asleep earlier and had longer sleep periods at night. Researchers suggested future studies should investigate the periodic patterns of sleep and the correlation to work performance, which could reduce work related accidents, especially for shift workers.
Chicago-based certified baby and toddler sleep consultant, Kim Schaf, agrees there is also some fluctuation in sleep patterns for babies and toddlers, but for children who have independent sleeping skills, there is not a wide range. According to Schaf, some factors that influence quantity and quality of sleep for young children include:

Dependency on sleep props
Overtiredness
Level of activity during the day
Sickness, teething, developmental milestones
Naps--duration and timing
Bedroom environment, including light, temperature and sound
Eating and drinking schedule
Travel
Having a different schedule on weekdays and on weekends
Children who learn how to fall asleep independently, without needing a sleep prop, develop a fairly consistent schedule for bedtime and waking up in the morning. "When I first start working with families, there is often a great difference in nap lengths and night time sleep, because the child is relying on sleep props, they aren't on the best schedule or the parents are not being consistent," said Schaf. "When parents eliminate sleep props, keep to a good schedule for naps and bedtime, avoiding overtiredness, and are consistent with the routine and their expectations, sleep patterns will regulate. Children will typically be able to fall asleep at about the same time each night and sleep until the roughly same time in the morning."
For more information about promoting healthy sleep habits and patterns for children, parents can reserve a free 15-minute evaluation to talk about their current sleep issues and discuss solutions on how to resolve these sleep problems by contacting Kim Schaf at (847) 386-6285.
About Sleep Training Solutions
Sleep Training Solutions, a leading infant and child sleep consulting company, provides education and training to parents in the Chicago area and across the country through private and semi-private consultations, seminars and overnight support. Sleep problems that can be resolved include issues with bedtime, nightwakings, naptime and early rising in infants and children up through age eight. Find Sleep Training Solutions on Facebook and follow on Twitter @sleepbetterbaby.
About Kim Schaf
Kim Schaf, M.A.T., is the Founder and President of Sleep Training Solutions and the Midwest Regional Director (USA) for the Association of Professional Sleep Consultants (APSC). After completing an extensive training and mentoring program with one of the world's most respected child sleep authorities, she became a Certified Infant and Toddler Sleep Consultant and offers expert guidance to resolve behavioral sleep issues for families across the country. She provides community education on child sleep issues, leading workshops at pediatrician offices, preschools, day care centers, and new mom groups. She is also available to speak at corporations for their Corporate Wellness Initiatives. Kim has a Master of Arts degree in Teaching, is a Certified Rainbows Facilitator and is a member of the American Sleep Association, the North Suburban Children's Business Network and the Neighborhood Parents Network. She lives in a northern suburb of Chicago with her husband and two small children, both of whom are excellent sleepers.
Photo credit: © Serhiy Kobyakov | Dreamstime.com
For more information
Contact: Kim Schaf, M.A.T.
(847) 386-6285
Kim(at)SleepTrainingSolutions(dot)com