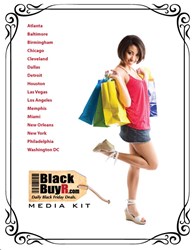 Houston, Texas (PRWEB) January 30, 2013
BlackBuyr.com Announces Official Media Trade Partnership Sponsor for "Homes for Veterans".
On Saturday, February 23, 2013, 1301 Texas Avenue (Houston Area Urban League building) at 1:30 p.m. Houston Area Urban Community Development Corporation, (HAUCDC) a separate community housing development organization (CHDO) of the Houston Area Urban League (HAUL) in partnership with Brook Community Development will kick off a new homeownership program for Veterans. This program is designed to make homeownership affordable for all qualified veterans. Homes being offered have been rehabilitated and are located throughout the greater Houston area for purchase at 75% of value.
Through normal attrition, 250,000 military personnel will leave the military and become Veterans every year through 2031. Texas has the second-highest number of Veterans in the country. Because the U.S. is scheduled to withdraw nearly 100,000 military personnel from Afghanistan in 2014, the number of Veterans entering the state will be incomparable to any Veteran population increase experienced since the end of the Vietnam War. Upon leaving the military, housing is a crucial need for Veterans and their families to stabilize and return to civilian life.
The "Homes for Veterans" program is made possible through a property donation program provided by Bank of America in partnership with the National Community Stabilization Trust, a national nonprofit organization helping communities access solutions to rebuild strong and stable neighborhoods. HAUCDC has an extensive inventory of rehabilitated homes available for purchase by Veterans at substantially reduced cost. The after repair value of the properties range from $85,000 to $150,000.
During the kick-off event, a virtual tour will be conducted and additional information about purchasing will be provided. Veterans interested in attending the event are asked to pre-register for limited seating and to bring a few required documents.
Contact: 713-393-8781 or visit http://www.haul.org no later than February 19, 2012 to register.
Or:
For Information Contact:
Bobbye Mills @ (713) 393-8781
David Slaughter @ (713) 393-8735
Founded in 2012, http://www.BlackBuyr.com currently operates as an online coupon shopping guide for all users in 16 United States cities; Atlanta, Baltimore, Birmingham, Chicago, Cleveland, Dallas, Detroit, Houston, Las Vegas, Los Angeles, Memphis, Miami, New Orleans, New York, Philadelphia, and Washington DC.
BLACKBUYR.COM is updated daily to ensure that its visitors have the most current tabs on their favorite sale items, news, and personal information.
BLACKBUYR.COM goal is to become the leading provider of African-American B2C coupon based shopping services and information over the Internet.