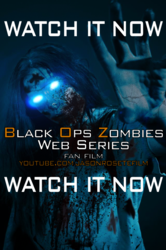 Fans are understanding that game-related original content is the way of the future.
Dana Point, CA (PRWEB) January 30, 2013
The island appeared abandoned. Three agents are alone with only the skills they have acquired. This island could be a tropical paradise. It's anything but that when zombies make it a living Hell! Finding help through an unexpected resource, the agents are faced with fighting for their own survival. A romp on the beach with bikini-wearing babes this ain't!
Put this scenario in Call of Duty: Black Ops 2 Revolution and you have a live stream movie adventure.
By supporting branded content on YouTube, Call of Duty: Black Ops 2 has opened itself up to the creative talents of its fan base. Jason Rosete's film is the beginning of a fan-made Black Ops 2 Zombies Revolution Web Series.
Call of Duty released World at War in 2008 with a new zombie mode, which shows up in subsequent releases. Black Ops 2 is the last release that continues the zombie evolution. You can even choose how to engage with three types of play.
One mode let's you collect weapons you find on your mission that might be useful against a zombie attack. Another tests your ability to survive a zombie-hostile environment. In the team play, your goal is to get the zombie horde to overrun your opposing team. Now that's teamwork!
Since the release of Call of Duty: World at War, zombies have multiplied throughout the game up to the current Black Ops 2 Revolution Map Pack. This is the world in which Jason Rosete has created his live-action short film.
This is just the start. Jason's film is part a live-action web series based on the Black Ops 2 Zombies Mode. Can't get enough of zombies and Black Ops 2 action? Jason's films will deliver a direct shot to the head!
Though Jason Rosete have had no formal filming education, he created a library of short videos available on YouTube as well as growing fan base and attribute his success to the YouTube community who have offered no shortage of tips, tricks, and support. His latest entry in live-action short films based on Black Ops 2 show his skills at surprising you from all directions.
Strap on the machete, clean your weapon and load up the magazine. Find out how well the three agents do on an abandoned island full of zombies. It will be Black Ops Zombie search and destroy at its best in this live-action web series!
Jason Rosete
http://www.youtube.com/JasonRoseteFilm
http://www.twitter.com/JasonRoseteFilm
http://www.facebook.com/JasonRoseteFilm