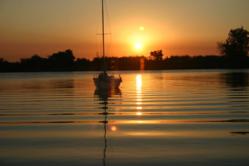 The dependable, steady, warm, winds make exploring the many miles of rivers, sloughs, and backwaters an enjoyable experience
Sacramento, CA (PRWEB) January 30, 2013
Starting this weekend, the ASA school will again be offering on-the-water sailing classes for adults. "We're looking forward to getting back on the water after a winter break," says Renae Klee, co-owner of the school along with her husband, Captain Alan Klee. "Our goal is to teach our students the skills they need to feel comfortable and confident sailing a 22-35 foot sailboat, and to make it fun!"
The folks at Delta Sailing School have designed a full spectrum of courses to appeal to every need. For those just starting out, a beginner's class, the Basic Keelboat Class, is going to give the novice the skills they need to crew and skipper a 22-foot keelboat. Once the joy of sailing has thoroughly grabbed their students, they move onto the Basic Coastal Cruising class, where they learn to sail 27 foot boats in more challenging conditions. The next classes, Bareboat Charter and Advanced Coastal Cruising, take place on the SF Bay and the Pacific Ocean, where students gain experience on larger boats and even sail overnight. A classroom-based Navigation Class is starting later in February. Sailing classes start February 2nd and are scheduled through the spring, summer and into the fall.
Sailing has maintained a strong position in the world of sports, recreation, and leisure. It has a long tradition of popularity among people with considerable means, but companies like Delta Sailing School are making this thrilling activity accessible to a wider range of people. With baby boomers coming into retirement age, there is an increasing interest in activities that can be developed and enjoyed in these later years. Additionally, younger people are discovering the pleasure of learning to sail and appreciating the skill required to crew and eventually captain their own boat.
The Delta, though only an hour from Sacramento, feels like a world away. It is an interesting place to sail with all of the options for exploration and tremendous wildlife, and it is far more peaceful than the nearby San Francisco Bay. Many students prefer to learn in this kind of environment. Some remain comfortable there and others head out to the big waters of the Bay or the Pacific. Which ever the path, being well trained and prepared for any possibility on the water is essential. That is why having U.S. Coast Guard licensed Captains and ASA certified instructors is so valuable.
Delta Sailing School also offers a sailing club; breaking down the barrier of boat ownership. Students can take a Capri 22 or a Catalina 27 out on the Delta, or even the San Francisco Bay, based on their experience level. They have several different membership options making it affordable and accessible.
Instructor Captain Dennis Harms said in response to his feeling about his position with the school, "The dependable, steady, warm, winds make exploring the many miles of rivers, sloughs, and backwaters an enjoyable experience.  I am looking forward to teaching for Delta Sailing School again this year and working with students to acquire and perfect their sailing skills so they can sail the delta, local lakes, bays, coasts, and oceans.  Sailing does not require boat loads of cash, most anyone with a desire can sail.  I hope to see you on the water."
.
Delta Sailing School is a family-run sailing school, teaching adults all levels of sailing from beginning keelboat skills to advanced coastal cruising. Contact them at 916-966-1855 or email to Info(at)DeltaSailingSchool(dot)com