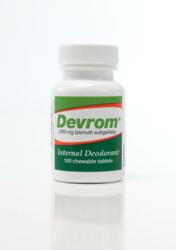 Odoriferous and excessive workplace flatulence was the issue.
Salt Lake City, UT (PRWEB) January 31, 2013
According to an article published on TheSmokingGun.com, on December 10, 2012 an employee of the Social Security Administration (SSA) was reprimanded for "Conduct unbecoming of a Federal employee." Odoriferous and excessive workplace flatulence was the issue. It seems that his proximity to co-workers while expelling offensive smelling flatulence created an intolerable work environment. In addition, another person in his office actually documented the malodorous gas events on 17 separate dates with 60 specific times. The reprimand was later rescinded.
It is an event like this that we feel obligated to remind people that there is a simple remedy for stinky intestinal gas odor. All this man had to do was take some Devrom® (internal deodorant), an FDA approved over-the-counter medicine indicated to safely and effectively deodorize flatulence and stool. Available without a prescription, the active ingredient is 200mg bismuth subgallate. A trusted name for over 50 years, Devrom® is available as a banana flavored chewable tablet and capsule. Commonly used by people who have fecal incontinence and have had ileostomy, colostomy and bariatric surgery (duodenal switch, gastric bypass, biliopancreatic diversion) to deodorize embarrassing flatulence odor. Devrom® has a complete customer satisfaction money back guarantee. Devrom® works fast to deodorize embarrassing gas!