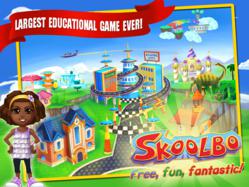 Singapore (PRWEB) January 30, 2013
Children from all over the world have collectively answered more than 10 million literacy and numeracy questions on Skoolbo, the world's largest educational game.
Skoolbo has just completed an improvement analysis on the first 10 million questions and found that after three hours of learning time, average improvements are 23.3% in literacy and 12.2% in numeracy. Refer to "It's All About Improvement" for a full breakdown.
Shane Hill, Skoolbo Founder and CEO, said: "Our whole reason for being is about lifting educational outcomes – it's at the heart of everything we do. To see such conclusive evidence of highly significant improvement across a full range of students from different parts of the world is extremely gratifying."
Skoolbo also released some of its data on the relative difficulty of various numeracy and literacy concepts. Skoolbo has found that children find alphabetical order considerably more complex than spelling. Telling the time on an analogue clock is also a topic that poses considerable challenge to many children.
Skoolbo continues to grow fast with a 49% increase in users over the last four weeks.
About Skoolbo
Skoolbo is a team of educators and developers spanning the globe that commit to creating innovative and free educational games for children. The company believes that technology can drastically improve learning outcomes for children by recognising and harnessing the way children learn.
The Skoolbo Dream
Our dream is that every child learns to read and gains confidence with numbers... these are life's essentials. We believe technology can dramatically help and that the best way to do it is to make it lots of fun and to make it free!
For more information, please visit http://www.skoolbo.com