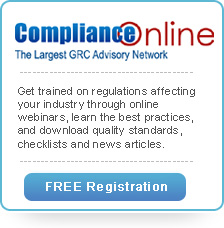 Palo Alto, CA (PRWEB) January 31, 2013
ComplianceOnline, the leading governance, risk and compliance advisory network with over 500 experts in various regulatory subjects, today announced a seminar on Roadmap of California Medical Leaves - Ultimate Guide to PDL, FMLA, FEHA, SDI, CFRA, PFL, ADA and Workers Compensation & Handling Performance Management Challenges. The one and a half day seminar, led by employment law expert Beth Brascugli De Lima will be held on March 5 and 6, 2013 in San Jose, CA.
This seminar will help participants learn best practices for controlling medical absences and necessary actions to be taken when leave policies are violated.
For more information or to register for the seminar, please click here .
Seminar instructor Beth Brascugli De Lima, M.B.A., SPHR-CA, is founder, president, and principal of HRM Consulting, Inc., a California-based human resource consulting firm. Ms. De Lima provides corporate consulting on a national basis regarding employment regulation, compliance and vocational rehabilitation. Ms. De Lima has extensive experience in all areas of employment litigation including the Americans with Disabilities Act (ADA), Family Medical Leave Act (FMLA), and Workers' Compensation and is a recognized expert regarding Medical Leave Management employment law compliance. She provides expert testimony for both the Plaintiff and Defense regarding Human Resource Best Practices and Standards of Care.
This comprehensive interactive training workshop will help clarify California specific leaves, how they interact with the Federal medical leaves and how to apply leaves accurately and consistently. It will also focus on handling performance management issues when managing employees on intermittent or ongoing medical leaves. Seminar instructor Ms. De Lima will explain how California leaves such as Fair Employment and Housing Act (FEHA) and California Family Rights Act (CFRA) interact with Federal medical leaves, such as the FMLA and ADA and how to make the transition from one leave to the next and the essential documentation needed to protect the employee and organization.
This workshop will provide participants with exposure to detailed documentation processes that can easily take them through the medical leave travails in California and explicitly document their activities in confidence.
This seminar will be beneficial to employers and employees working in California and to human resource managers, financial managers, CFOs, administrators and risk managers in private and governmental agencies.
Date: Tuesday, March 05, 2013, 8.00 AM- 4.00PM and Wednesday, March 06, 2013, 8.30 AM- 12.00 PM PST
Venue & Location: Holiday Inn San Jose Airport
1350 North First Street,
San Jose, CA
Registration Cost: $ 649.00 per registration
Early bird discounts: For discounts on early registrations, please click here .
Register by phone: Please call our customer service specialists at +1-650-620-3937 or email to customercare(at)complianceonline(dot)com
For more information on ComplianceOnline or to browse through our trainings, please visit our website.
About ComplianceOnline
ComplianceOnline is a leading provider of regulatory/compliance trainings for companies and professionals in regulated industries. ComplianceOnline has successfully trained over 20,000 professionals from 3,000 companies to comply with the requirements of regulatory agencies. ComplianceOnline is headquartered in Palo Alto, California and can be reached at http://www.complianceonline.com/.
For more information please contact:
A Reuben Bernard
Manager of Program Marketing
ComplianceOnline
2600 E Bayshore Rd
Palo Alto CA USA 94303
650-620-3937 phone
650-963-2530 fax
reuben(at)complianceonline(dot)com
http://www.complianceonline.com/