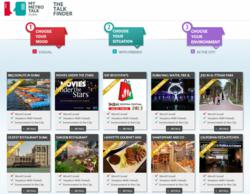 In a city that continuously has so much to offer, people still struggle to decide where to go and what to do.
(PRWEB) January 31, 2013
MyMetroTalk.com, a Dubai based startup, has launched a community lifestyle portal composed of venue listings and articles. It aims to utilize community feedback and provide users with real guidance when struggling to decide on where to go and what to do. The website delivers the content through several innovative and unique methods setting it apart from others.
The city guide launched with an event on 8th January 2013 at the MAKE Business Hub. Simplifying the decision making process for users, the TALK FINDER TOOL is the flagship feature of the website. The tool provides personalized recommendations on where to go based on a selected mood (example Hungry) and situation (example With Family).
"In a city that continuously has so much to offer, people still struggle to decide where to go and what to do. By utilizing community feedback the talk finder allows users to search only recommended places, therefore providing real strong guidance when it comes to answering a very popular question...where do you feel like going?" said Saman Darkan, Founder, MyMetroTalk.com.
The majority of the articles available are community generated highlighting discussions such as a local talent of the month. Interactivity is encouraged through the usage of polls. The website as a whole contains a database of over 7,500 venues ranging from Restaurants, Cafes, Bars & Clubs, Activities, Hotels and more. MyMetroTalk.com equips users to make 'informed decisions' by providing more than the standard pictures and contact information. Videos are embedded where available giving viewers a sneak peek of what to expect from a venue. Dish recommendations where users can submit and up/down vote popular dishes. Adding to the website's user friendliness, QR codes allow users to scan and save contacts instantly.
The team behind this exciting new venture includes Saman Darkan, Founding Talker, Ranime Loutfi, the Managing Talker, Mo Mirza, the Tech Talker and Saman's sister, Suzanne Darkan, the Video Talker. With a marketing plan still underway, the website is quickly rising in popularity boasting a strong social media fan base and receiving approximately 10,000 unique web visitors a month. "The response has been phenomenal, we're just getting warmed up", said Darkan.
Development plans under way include an attractive incentive scheme allowing participating 'Metro Talkers' to cash in rewards, mobile development plans and additional components of the websites including enhanced featured that are yet to be revealed. "If people like what they see, then they are going to love what's next!" Saman concluded.