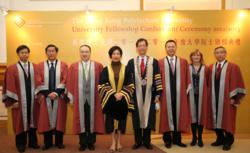 (PRWEB) January 30, 2013
The Hong Kong Polytechnic University (PolyU) today (30 January) conferred the honorary title of University Fellowship upon six outstanding individuals to pay tribute to their significant contributions to the University and the community.
Presided over by Ms Marjorie Yang Mun-tak, Chairman of the University Council, the conferment ceremony was held at the Jockey Club Auditorium on the PolyU campus. The recipients were also warmly greeted by PolyU President Professor Timothy W. Tong and other senior staff members of the University.
The list of distinguished recipients comprises entrepreneurs, renowned artist, producer, philanthropists, industrialists and outstanding alumni. They are (in alphabetical order of last name):
Mr Clifton Ko Chi-sum
Renowned film director, producer and screenwriter Mr Clifton Ko Chi-sum is the Chief Executive Officer and Producer of Spring-Time Stage Productions. Spring-Time Stage Productions was the first art group to stage theatre productions at the PolyU Jockey Club Auditorium and has since then entered into various collaborations with PolyU. Mr Ko is also often invited as guest speaker at PolyU student talks.
Professor Norman W.M. Ko
Professor Norman Ko is not only an expert in fluid dynamics and acoustics, but also an artist with multiple talents in sculpting, painting and photography. He ardently supports PolyU's endeavours in promoting arts and culture by serving as Artist-in-Residence at PolyU in 2012 and donating his art pieces for permanent display on the PolyU campus.
Mr Kong Qingping
Mr Kong Qingping, Chairman of China Overseas Land and Investment Limited, has made significant contributions to the field of construction engineering and real estate development. Serving as an Adjunct Professor to PolyU's Department of Building and Real Estate, he has been invited to share his experience in a PolyU public lecture entitled "Real Estate Market in China, Present and Future."
Ir Tsui Tack-kong
Graduated from the Hong Kong Technical College (predecessor of PolyU) with a Diploma in Building, Ir Tsui Tack-kong is now Managing Director of T.K. Tsui & Associates Limited. He is a Founding Member and Member of the Board of Directors of the PolyU Development Foundation and has played an active role in various PolyU fund-raising events. He was a recipient of the Outstanding PolyU Alumni Award in 2011.
Mrs Clara Weatherall
Mrs Clara Weatherall, Chairman of the Keswick Foundation's Board of Governors, is well known for her abiding commitment to philanthropy. Through the Foundation's generous benefaction, Mrs Weatherall has supported PolyU's initiatives on the Chinese mainland, including the offering of a Master of Social Work (China) programme in collaboration with the Peking University and a Post-disaster Social Reconstruction programme with the Sichuan University.
Mr Wong Tit-shing
A graduate of the Hong Kong Technical College with a Higher Diploma in Production Engineering, Mr Wong Tit-shing is Founder and Chairman of Jetta Company Limited. While heavily engaged with his business, Mr Wong cares for his alma mater. He has been serving in the PolyU Fund-raising Committee since 2011, and has made generous donations in support of PolyU's long-term development and its student development programmes.
Since its introduction in 2000, PolyU has conferred University Fellowship on a total of 69 distinguished personalities.