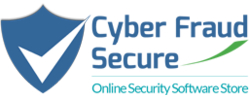 Cyberfraudsecure.com strives to provide a large, popular and exclusive range of security software at attractive prices
Dubai, UAE (PRWEB) January 31, 2013
The spread of malicious programs with intention to steal sensitive data from computer systems, mobile phones and other personal devices has alarmingly increased in recent years. By simply connecting to the internet, a user is exposed to innumerable security threats such as viruses, adware, spyware, keyloggers etc. CyberFraudSecure.com is designed as a convenient one stop shop, where users can find solutions to such threats and purchase the right protection for their PCs, Mac and Mobile Phones, with full confidence.
"The products showcased here are handpicked by our experts that include some of the most notable brands in the cyber security industry. Considerable thought has gone into the design of our web presence, such that our customers are provided with optimum information, comparisons, ratings and reviews on these products. This will enable our customers to make informed decisions and buy the most appropriate security solutions to protect their computer, network & data from cyber criminals" said Regan Simone, media spokesperson of CyberFraudSecure.com.
Moreover, Regan went on to say, "In our endeavour to become the most popular global software security web-store, we strive to provide a large number of popular and exclusive range of security software at attractive prices. Also, we are committed to provide periodic offers, coupons and discount on popular software brands to benefit to our customers."
About CyberFraudSecure.com
CyberFraudSecure.com offers a large range of popular security software for Windows, Mac and Mobile Phones (Smart Phones).
CyberFraudSecure.com is a division of Estel Technologies and Rechargeitnow.com, where, Estel Technologies is a global leader in Mobile Commerce and Mobile Financial Services Software platforms; Rechargeitnow.com is a leading e-Commerce company delivering next generation online-prepaid recharge solutions.